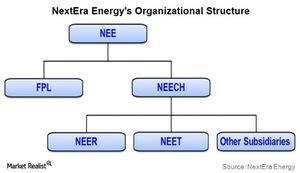 NextEra Energy plays in regulated and unregulated utility markets
NextEra Energy: An overview
To properly assess NextEra's performance, we need to look into its business. NextEra Energy is a Florida-based power company. NextEra covers all aspects of the power business, from electricity generation, electricity sales, and transmission, to delivery, to end consumers.
The bulk of NextEra's operations are concentrated within its subsidiaries, Florida Light & Power, or FPL, and NextEra Energy Resources, or NEER. FPL is involved in NextEra's regulated power business, while NEER is involved in NextEra's competitive power business.
Article continues below advertisement
Florida Power & Light Company
FPL is based out of Florida and operates mainly as a regulated utility. As a regulated utility, FPL's profits are based on a markup over electricity production and delivery costs. This markup is set by state regulatory agencies. So, FPL's earnings are relatively stable compared to NextEra's unregulated business. FPL is a major contributor to NextEra's revenues. Historically, it contributes more than 70% of NextEra's revenues.
Like NextEra, Dominion Resources (D) and Southern Company (SO) operate mainly as regulated utilities. All of these companies are part of the Select Sector Utilities Select Sector SPDR Fund (XLU).
NextEra Energy Resources
NEER is involved in the competitive power generation business. While FPL ensures stable earnings for NextEra, NEER provides NextEra with a high-growth platform. Unlike FPL, NEER's profitability is linked to the market price of electricity. A rise in electricity demand leads to increased electricity prices. This, in turn, translates into higher profits for unregulated power companies.
Meanwhile, market-based pricing exposes NEER's earnings to higher volatility. A slump in electricity demand leads to lower profit margins for unregulated power companies. Examples of pure-play unregulated power companies in the US include NRG Energy (DYN) and Calpine Corporation (CPN).