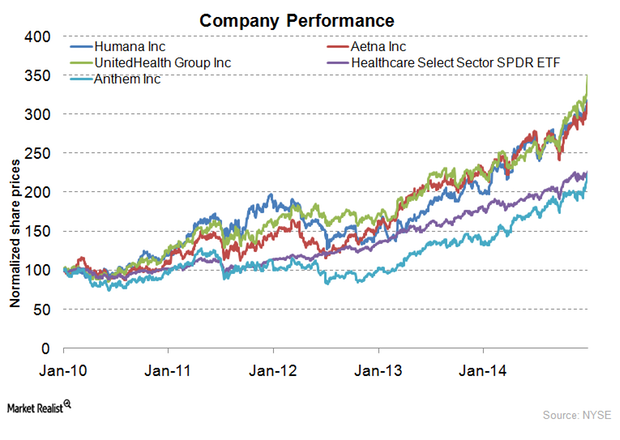 Humana: Unraveling the history of a health insurance giant
Overview
Humana (HUM) is the third-largest health insurance provider in the US. With headquarters in Louisville, Kentucky, Humana has over 13 million customers in the US. Humana is 73rd in Fortune 500 rankings and is thought to be the highest-ranked company in Kentucky.
Article continues below advertisement
Share price
The above graph shows that Humana (HUM) has consistently outperformed the Healthcare Select Sector SPDR (XLV) and has been one of the best performers in the health insurance industry. On an annualized basis, the company delivered 25.7% returns from January 2010 to January 2015. In the same time frame, peers Anthem (ANTM), UnitedHealth Group, and Aetna (AET) delivered annual returns of 17.1%, 17.6%, and 25.4%, respectively.
History
Humana, a leading managed health care company, was founded by David A. Jones Sr. in 1961 as a nursing home company called Extendicare. In 1972, after divesting the nursing home business, Extendicare moved into the hospital business and assumed the corporate name Humana in 1974.
In the 1980s, Humana entered the health insurance business and finally divested its hospital interests in 1990s. In 1998, Humana and UnitedHealth Group (UNH) planned to merge in a deal worth $5.5 billion, but the move failed when UnitedHealth Group posted almost $1 billion in quarterly losses that same year.
In 2001, Humana entered into an innovative joint venture with Navigy to create an online web portal called availity.com, enabling physicians and health providers to conduct business with the two companies.
In 2005, Humana entered into a partnership with Virgin Group, offering financial incentives to those of its insured who adopted a healthy lifestyle. In 2006, Humana launched RightSource, a nationwide pharmacy business.
In March 2008, Fortune Magazine named Humana one of the top five "most admired healthcare companies in the US."