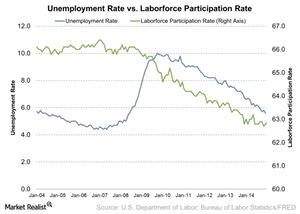 How Unemployment Rate, Labor Participation Affect Restaurants
Employment rates and the economy
Increasing sales lead businesses to expand and hire more staff. During economic downturns, businesses find it difficult to maintain high staff levels. As a result, many people lose their jobs and the unemployment rate rises.
Article continues below advertisement
Article continues below advertisement
Declining unemployment rate
The unemployment rate for December 2014 was 5.6%, showing a month-over-month decrease from 5.8% in November. As the economy gets better, the unemployment rate declines and business conditions improve.
Decreased labor force participation
By itself, a falling unemployment rate is not enough of a reason to celebrate, however. We also need to look at the labor force participation rate. According to the US Bureau of Labor Statistics, the labor force participation rate is "the share of the population 16 years and older working or seeking work."
The chart above shows that the labor force participation rate has also been falling. The labor force participation rate dropped to 62.7% in December 2014 from 62.9% during the previous month. A high labor force participation rate is helpful for restaurant companies and other employers when the economy is strong and job openings increase.
Takeaway for restaurant industry
Catering to a wide demographic is important for restaurant chains such as McDonald's (MCD), Yum! Brands (YUM), Darden Restaurants (DRI), Brinker International (EAT), and others in the Consumer Discretionary Select Sector SPDR ETF (XLY). Also, optimal menu pricing appeals to people who are not in the labor force. This could explain why casual dining restaurants—which have a higher average check compared to fast-food and fast-casual restaurants—are performing poorly. To learn more about these concepts, read An in-depth overview of the US restaurant industry.
The next part of this series will explore what is happening with the population's income and hourly wages.