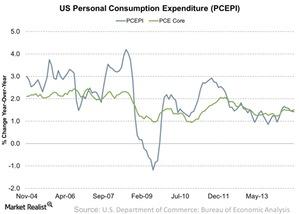 How Inflation Impacts The Restaurant Industry
The PCE price index
As the economy continues to improve, the Fed is watching price increases or inflation through the PCE (personal consumption expenditure) price index. This index shows percentage changes in prices for goods and services.
Article continues below advertisement
Article continues below advertisement
Inflation still below the Fed's target
The chart above compares the total PCE price index (or PCEPI) to the core PCE index, which excludes volatile food and energy costs. As of November 2014, the core PCE index was 1.4%, and the PCEPI was 1.2%. The Fed's target inflation rate is 2%.
Takeaway for restaurant industry
When inflation is low, consumers have more purchasing power. So, there is a higher spending capacity. This is a positive sign for restaurant companies such as Chipotle Mexican Grill (CMG), Yum! Brands (YUM), Darden Restaurants (DRI), and Texas Roadhouse (TXRH). It is also beneficial for ETFs like the Consumer Discretionary Select Sector SPDR (XLY).
Low inflation also means low interest rates. This makes it affordable for restaurants to borrow and expand units. Plus, consumers can procure credit at lower rates.
Increasingly, the restaurant industry is catering to Millennials—customers under the age of 35. The industry closely watches how Millennials think about the economy in order to determine their willingness to spend.
If prices increase too quickly, it may result in negative sentiment among consumers and slow down the economy. In the next article, we will look at consumer sentiment towards the US economy.