Why eBay isn't worried about a falling take rate
eBay's take rate fell from 3.79% in 2Q13 to 3.53% in 2Q14. However, the company isn't worried about it since take rate is offset by healthy revenue growth.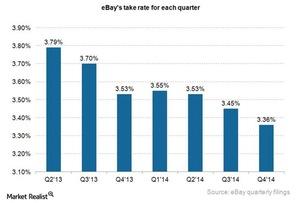 eBay's take rate still on downward trend
eBay's (EBAY) take rate is the commission eBay charges on the goods and services it sells through its platform. Its platform consists of eBay Marketplaces as well as its payments system, PayPal.
eBay's take rate continues to decline. As the chart below shows, the take rate fell from 3.79% in 2Q13 to 3.53% in 2Q14. During the company's earnings call, eBay's management said it's not worried about its declining take rate since it's offset by healthy revenue growth.
Healthy revenue growth is important in order for eBay to remain relevant in the e-commerce market that's currently led by Amazon (AMZN) and Alibaba (BABA).
eBay's revenue grew a decent 9% in the fourth quarter over the corresponding quarter a year ago. As long as that happens, ETFs such as the Dow Jones Internet Index Fund (FDN) and the SPDR S&P 500 (SPY) should benefit since they have decent exposure to eBay.
Article continues below advertisement
Article continues below advertisement
A number of reasons for the declining take rate
eBay Management mentioned that the biggest contributor to the declining take rate is the faster growth of its PayPal unit compared to eBay Marketplaces. PayPal's take rate is much lower than the take rate for eBay Marketplaces. PayPal has expanded its credit portfolio. As a result, monetization on credit-related transactions is higher.
Within Paypal, large merchants have lower take rates, and they're growing the fastest. The growth of Braintree with the expansion in the new markets has put a continued downward pressure on take rates. However, management believes that going forward, this compressed take rate trend will come down.
eBay's other businesses also have lower take rates
eBay mentioned that in the last quarter, the company was forced to reduce the take rate on its StubHub platform because competitors reduced their pricing. StubHub is a platform on which people can buy or sell tickets related to events such as concerts, sports, theater, and Broadway.
eBay also mentioned that its daily deals business is gaining more traction. But again, this business has a lower take rate. This impacts the company's overall average take rate.