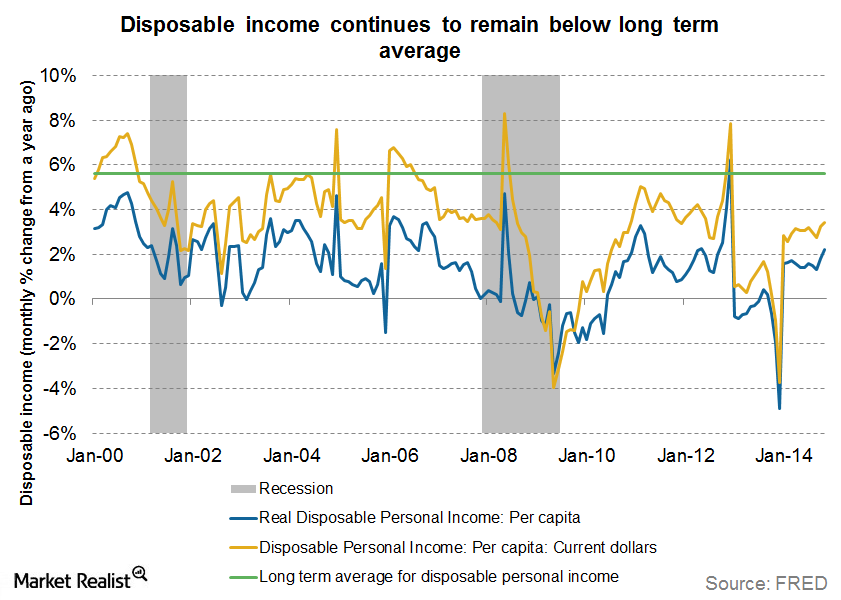 Disposable Income Is Still Below Historical Averages
Disposable income, a broader measure of income, has improved, but it is still a long way from its historical average. The most recent figure showed disposable income rising a little over 4% from a year earlier. Since 1960 the average rate has been roughly 6.8%.
Thanks to falling inflation, the most recent numbers on real (inflation adjusted) disposable income look a bit better. That said, we have yet to see a sustained improvement. In November real disposable income accelerated to 2.9% year-over-year. But looking at 2014 overall, the trend is less impressive. Last year real disposable income growth averaged 2.3%, roughly a full percentage point below the long-term average.
Article continues below advertisement
Market Realist – Disposable income refers to the income available to a household or individual after paying off personal current taxes. The previous graph charts the percentage change in the disposable personal income per capita and the real disposable personal income per capita. Disposable income is still below historical averages.
The US financial crisis (XLF) of 2008 and the ensuing recession brought a halt to positive growth in disposable incomes as the chart above shows. The massive quantitative easing program involving the Federal Reserve's purchases of 10-year Treasuries (TLT) (IEF), mortgage-backed securities (VNQ) (IYR), and other bailout packages by the government were introduced to curtail the economic impact of the collapse. The safety net these programs provided was not large enough to sustain disposable incomes, which fell by 1.3% in 2009. 2010 saw some stabilization that led to an increase in disposable incomes by a meager 0.3%. The rebound in personal disposable incomes continued to remain slow from 2011 to 2013 on account of a beleaguered labor market reeling from high unemployment rates.
Though 2014 has shown better figures than the previous years succeeding the recession, there is still a long way to go. Personal disposable income is still off the long-term average mark.