How cost structures and distribution channels impact profit
As customers use Internet-based aggregators to purchase insurance policies, insurers use online sales to interact directly with customers and reduce costs.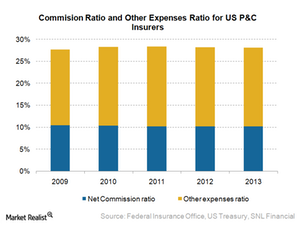 Impact of distribution
Insurers sell their products through various channels, including like direct sales through agents, the Internet, banks (known as bancassurance), and independent agents. In 2013, ~50% of the premiums for individual life insurance policies were garnered through independent insurance agents.
Another ~40% of the policies were sold through affiliated agents of the insurers. Selling insurance products through agents creates a significant cost to insurers, an expense known as acquisition expense.
Article continues below advertisement
Article continues below advertisement
Commoditized P&C products
While direct sales account for 4% of the first-year premiums collected on individual life policies, commoditized P&C products provide a different view, especially in the personal lines purchased by individual customers. The share of direct sales in such products, such as personal auto insurance, have increased significantly.
Recent trends outline future growth in this channel, as customers increasingly use Internet-based aggregators to purchase insurance policies. As the penetration of technology increases, insurers also try to increase online sales, allowing them to interact more directly with customers and to reduce costs.
As you can see in the above chart, commission ratios have remained broadly stable over the years. Expense ratios are generally calculated as a proportion of the premiums earned. The P&C insurers in the US sector include AIG (AIG), ACE (ACE), Travelers (TRV), Allstate (ALL), and Chubb (CB), and are part of the SPDR S&P Insurance ETF (KIE).
Focus on efficient operations
While agent commissions form one part of the insurance industry's expenses, the other part involves its administrative expenses. As the profitability of insurers takes a hit, there is a trend among insurers on a global level to optimize business processes in order to lower these expenses.