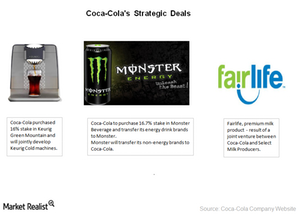 Coca-Cola's joint ventures set the stage for future growth
Growth opportunities
Despite difficult market conditions, The Coca-Cola Company (KO) is quite optimistic about future growth prospects. Currently, the average household globally consumes 26 beverages per day, of which only 1.4 belong to the Coca-Cola brand.
The company is focused on capturing this opportunity by expanding its product portfolio both organically and through strategic deals. Coca-Cola's joint ventures will set the stage for future growth. The company is looking to grow into categories such as coffee, value-added dairy, and energy drinks.
Article continues below advertisement
Fairlife milk product
Coca-Cola launched Fairlife, a premium milk product, in February 2015. This product is a result of the 2012 joint venture between Coca-Cola and Select Milk Producers, Inc. to enter the value-added dairy market.
Fairlife is a lactose-free premium filtered milk with 50% more protein, 30% more calcium, and half the sugar of regular milk. Coca-Cola priced the product at double the price of regular milk.
The consumption of regular milk has been declining in the United States. However, there's a rising demand for value-added dairy. Currently, Coca-Cola has introduced Fairlife only in select markets. It expects to roll it out nationwide later.
Deal with Keurig Green Mountain
In 2014, Coca-Cola purchased a 10% stake in Keurig Green Mountain, Inc. (GMCR). It entered into an agreement to develop the upcoming Keurig Cold machines. Through this partnership, Coca-Cola's consumers can enjoy the convenience of preparing ice-cold Coca-Cola beverages at home through Keurig's home carbonation machine.
Coca-Cola later increased its stake in Keurig Green Mountain to 16%. Coca-Cola also extended its agreement to include its select brands such as Honest Tea on Keurig's existing hot brewing system.
In January 2015, Coca-Cola's rival Dr Pepper Snapple Group Inc. (DPS) announced a multi-year deal with Keurig Green Mountain to develop certain Dr Pepper Snapple brands for the Keurig Cold machines.
Coca-Cola's deal with Monster Beverage
In August 2014, Coca-Cola announced a deal with Monster Beverage Corporation (MNST) to acquire a 16.7% stake in Monster for $2.15 billion. As part of the deal, Coca-Cola will transfer to Monster its energy drinks business, including brands such as NOS, Full Throttle, and Burn. In turn, Monster will transfer to Coca-Cola its nonenergy drink business, including brands such as Hansen's natural sodas, Peace Tea, and Hubert's Lemonade. Monster will make Coca-Cola its preferred distribution partner.
Coca-Cola and its peers are components of the SPDR S&P 500 ETF (SPY), which has 9.74% holdings in the consumer staples sector and 0.89% in Coca-Cola as of February 16, 2015.