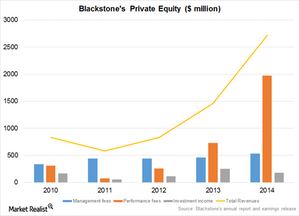 Blackstone relies on private equity division to drive growth
Performing since inception
The private equity division of the Blackstone Group (BX) includes corporate private equity funds, a tactical opportunities business, and a private fund of funds business. The company has built six general private equity funds and two specialized funds focusing on energy and communications-related investments. Together, these businesses are called the Blackstone Capital Partners, or BCP, funds. The typical fund size targeted by Blackstone in the past few years has been in the $5 billion to $15 billion range.
Article continues below advertisement
Performance fees overtake traditional
Blackstone (BX) manages a total of $73 billion assets in the private equity segment and has generated an annual return of 16% since its inception. The assets under management form approximately 25% of total assets managed but represent 36% of the company's total revenues.
The performance of these funds is the main reason revenues have soared the way they have. As you can see in the above graph, performance fees surpassed management fees in 2013. The gap widened even further in 2014.
Private equity strategy
Under the private equity segment, Blackstone focuses on a variety of strategies such as leveraged buyout acquisitions of US companies, equity or start-up investments, minority stakes, joint ventures, distressed debt, structured debt, and industry consolidations.
The company has deployed its capital across sectors in and outside of the US. Blackstone is primarily focused on energy, real estate, heavy industrials, and technology. Some of its major investments include Crocs (CROX), Vivint, LLOG Exploration, and Cheniere Energy Partners (CQP).
The company's private equity division is slightly more diversified than similar divisions at Carlyle Group (CG), KKR & Co.(KKR), Apollo Global Management (APO), and T. Rowe Price Group (TROW). TROW makes up 0.72% of the Financial Select Sector SPDR Fund (XLF).