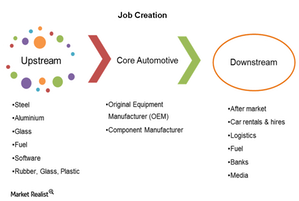 Why the automotive industry generates employment
Employment
The automotive sector plays a crucial role in job creation. Car manufacturing activity has an employment multiplier value of five. Other industry activity has a value of three.
In the US, OEMs (original equipment manufacturers) employ 1.7 million people directly. They create 1.5 million jobs indirectly. OEMs make the original parts that are used by automakers. Suppliers and dealers support an additional 4.8 million jobs.
In the automotive industry, every $1 million increase in revenue leads to the creation of approximately ten jobs. This ratio is larger for sectors like energy and utilities.
Article continues below advertisement
Globally, Volkswagen (VLKAY) employs the most people in the auto industry. It has 570,000 employees. Toyota Motors (TM) has 340,000 employees. Daimler (DDAIF) has 270,000 employees. Among the "Big Three" manufacturers in Detroit, Fiat (FCAU) has the highest number of employees at 230,000. It's followed by General Motors (GM). General Motors directly employs 220,000 people.
Investors can gain exposure to these companies through the First Trust NASDAQ Global Auto ETF (CARZ).
Labor costs
Labor costs vary significantly by country. A large portion of research and development, or R&D, expense is also in the form of labor cost in the automotive industry. As a result, it's very important for companies to be able to control wages.
Traditionally, the auto industry has been in the grip of labor unions. In 1997, UAW (United Auto Workers) members produced 86% of the vehicles manufactured in the US. The share decreased to 54% in 2014.
Production outsourcing and the creation of union-free units by foreign manufacturers diminished labor unions' bargaining power. Daimler is one automaker that adopted these strategies. The company made its plant in Chennai, India, an export hub for its commercial vehicles.
So, how do automakers cover their huge costs? They spend more. We'll discuss this in the next part of this series.