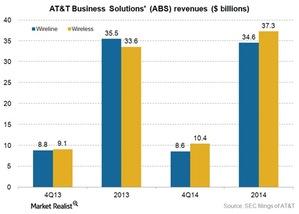 Why AT&T Business Solutions shifts focus to wireless customers
AT&T Business Solutions
AT&T (T) plans to focus more on business customers in 2015. Traditionally, the company has presented results of its Business Solutions in wireline separately. In Business Solutions, the company caters primarily to small, medium, and large enterprises, government, wholesale customers, and carriers.
In wireline, Business Solutions has been the largest segment of the company. The segment contributed to ~59% of AT&T's wireline revenues in 4Q14. Business Solutions has been a declining segment for the company, and in 4Q14 the segment's revenues declined 2.8% year-over-year.
Article continues below advertisement
In 2015, the company plans to focus on wireless as well as wireline business customers together. The company has already reported this segment, called AT&T Business Solutions (or ABS), in an 8K filing in January 2015. We'll now look at ABS segment's results in 4Q14 to understand the reclassification.
Fast-growing wireless business customers
As you can see in the chart above, unlike wireline revenues, AT&T Business Solutions' wireless revenues are in fact increasing. According to the company, these wireless customers included both businesses and their employees. The revenues from wireless business customers grew by ~14% year-over-year in 4Q14. Also, in 2014 wireless customers contributed more to AT&T Business Solutions then wireline customers. In 4Q14, the contribution from wireless customers reached a significant ~55% of AT&T's Business Solutions revenues.
This is particularly important considering the shrinking revenues from wireline customers during the same period. Revenues of wireline telecoms are declining year-over-year due to the shrinking voice services in the US. Apart from AT&T, companies such as Verizon (VZ), CenturyLink (CTL), and Windstream (WIN) are also seeing this trend.
If shrinking revenues of these telecoms concern you, you can get diversified exposure to them by investing in the Technology Select Sector SPDR ETF (XLK). The ETF held ~10% in these telecoms at the end of January 2015.