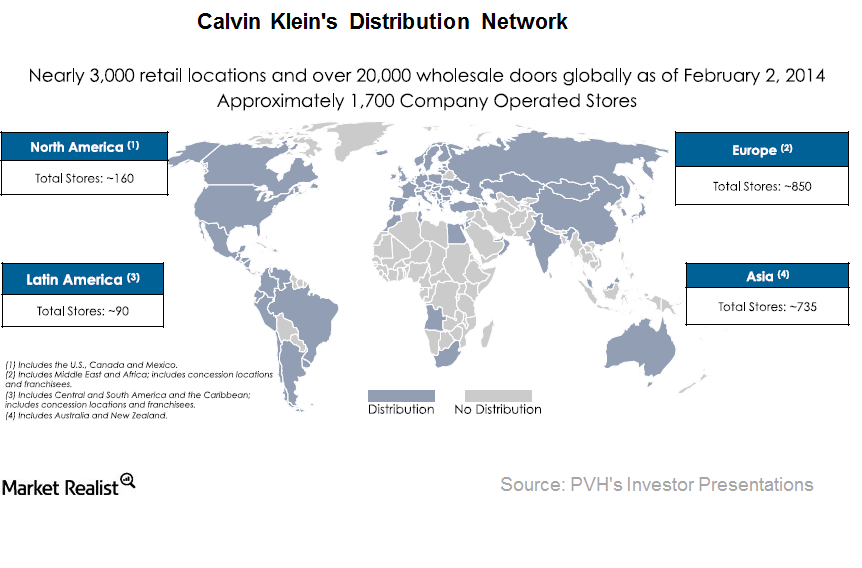 Analyzing the Calvin Klein business
Brand overview
Calvin Klein is one of the most well-known designer names in the world. The Calvin Klein brands include Calvin Klein Collection or the halo brand, Calvin Klein—platinum label, Calvin Klein—white label, Calvin Klein Jeans, and Calvin Klein Underwear. The brands are targeted at different consumer groups at various price points.
Calvin Klein products are now sold in over 1,700 company-operated stores—compared to around 960 stores in 2012. This was before the merger with Warnaco Group.
Article continues below advertisement
In 2013, over $300 million was spent on advertising and other brand promotional activities. These expenses were borne by licensees and Calvin Klein brands' other authorized users. It's important to note that for the Calvin Klein brand, marketing through digital platforms now forms a little over 20% of the total marketing spend—compared to 1% in 2009.
Over 50% of the brand continues to be licensed
Products sold under the Calvin Klein banner had gross revenue of $7.8 billion in 2013. Of the revenue, PVH reported $2.8 billion. The difference between the two figures represents revenue booked by over 45 licensees and other similar arrangements. PVH only gets about 5%–6% of the licensing revenue.
PVH's largest licensees are Coty, Inc. (COTY) and G-III Apparel Group (GIII). Together, they have retail sales of ~$2.7 billion under the Calvin Klein brand. Earlier, Warnaco was the largest licensee. It had standalone licensing revenue of over $2 billion. PVH brought it in-house in early 2013. In turn, this boosted PVH's revenue from the Calvin Klein business by about $1.8 billion in 2013.
Investors seeking to attain exposure to PVH Corp. (PVH) can consider pooled investment vehicles like the SPDR S&P 500 ETF (SPY) and the Consumer Discretionary SPDR ETF (XLY). XLY has 0.42% allocation for PVH. Other apparel companies in XLY include Coach Inc. (COH), Ralph Lauren (RL), Michael Kors (KORS), and VF Corp. (VFC). Coach and Ralph Lauren account for 0.47% each. Michael Kors accounts for 0.66%. VF Corp. accounts for 1.13% of the ETF.