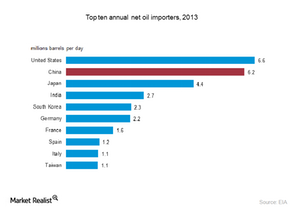 Who will drive crude oil consumption?
Major crude oil importers
The world's largest importers of oil include Japan, India, China, other Asia Pacific countries, the United States, and European countries.
China and India are major crude oil importers. China saves $2.2 billion on every 1% drop in crude oil. A decline of $30 per barrel of crude oil means a savings of $40 billion for India. The drop in crude oil prices will decrease inflation and improve the fiscal deficit and current account balance. This will boost economic growth in these countries.
Article continues below advertisement
Investor takeaway
As we saw in the previous part of this series, global growth in 2015 and 2016 will be driven by China, India, the United States and Asia Pacific countries. Current lower crude oil prices and growth from these countries will drive crude oil consumption in the long term.
The majority of crude oil these countries import is used for transportation and industrial use. The demand for transportation and industries are driven by economic and manufacturing activities.
Investors can follow indicators such as the Purchasing Managers Index (PMI) and the unemployment rates in these countries. Since transportation is a significant oil user, auto sales also influence oil demand. Investors can follow monetary policy changes that impact growth in these countries. Thus, crude oil demand as well as crude oil prices will increase in the long term.
Rising oil prices affect the profitability of oil companies such as Chesapeake Energy (CHK), Concho Resources (CXO), Exxon Mobil (XOM), BP (BP), and PetroChina (PTR).
Read the next part of this series to know whether crude oil will hit $32 per barrel in the short term.