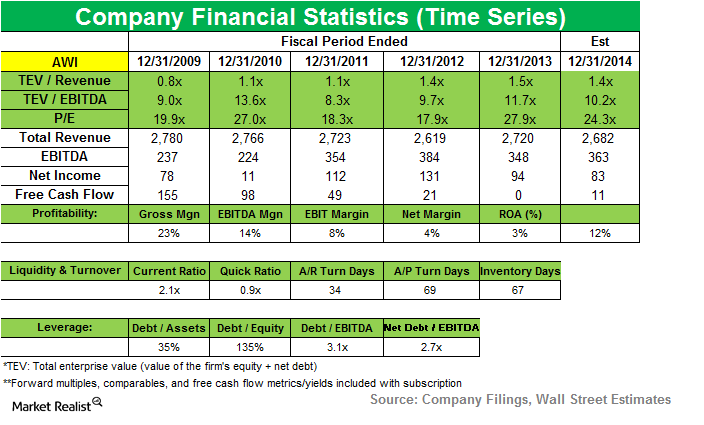 ValueAct gets seat on Armstrong World Industries' board
ValueAct and Armstrong World Industries
Activist hedge fund ValueAct Capital's amended 13D filing on December 17 reveals that the fund owns 9,200,000 shares in Armstrong World Industries (AWI). This accounts for an approximate 16.8% stake in Armstrong. The fund raised its position from 2,700,000 shares in 2Q14, according to the latest 3Q14 13F filing.
Article continues below advertisement
Overview of Armstrong World Industries
Armstrong is based in Lancaster, Pennsylvania. It's a global producer of flooring products and ceiling systems. The products are used in the construction and renovation of residential, commercial, and institutional buildings. The company designs, manufactures, and sells mainly resilient and wood flooring products. Its ceiling systems are mineral fiber, fiberglass, and metal.
Armstrong sells its products around the world. In 2013, the company's consolidated net sales totaled ~$2.7 billion. About 70% of its revenues are generated outside of North America, in Europe. It competes with Compagnie de Saint-Gobain, or CODYY, and Lafarge SA, or LFGEF, among others.
ValueAct partner gets representation on AWI board
In August, ValueAct disclosed an activist position in Armstrong. Its filing indicates that it may discuss strategic alternatives, such as a sale or merger, as well as other things with Armstrong's management and shareholders. The filing discloses that the shares were acquired for $335.6 million.
An Armstrong statement fromDecember notes that Gregory P. Spivy, a partner at ValueAct Capital, was added to the company 's board. Spivy was cited as saying that "Armstrong is a strong, global company with great long-term potential."
Article continues below advertisement
Armstrong's sales affected by lower volumes
While Armstrong's 3Q14 results beat estimates, its consolidated net sales fell slightly compared to 3Q13, due to lower volumes in Europe and lower sales of resilient and wood flooring in the Americas. It said the decline more than offset the effect of favorable price and mix.
During 3Q14, Armstrong ceased operations at a resilient flooring plant in Australia.
Exiting European flooring business
In December, Armstrong announced that it's exiting its European flooring business and stopping further funding of its DLW subsidiary. The decision is the result of a "comprehensive evaluation of strategic alternatives following years of disappointing results, multiple restructuring initiatives and significant financial investments." Its resilient flooring business was negatively impacted by excess industry capacity during 3Q14, according to the company's 10Q filing.
ValueAct's quarterly filings
The fund's latest 13D amendments include MSCI Inc. (MSCI), Allison Transmission Holdings (ALSN), Armstrong World Industries (AWI), and Rockwell Collins (COL).
The fund also updated its positions in Adobe Systems Inc. (ADBE) and Valeant Pharmaceuticals (VRX) via a Form 4 filed with the U.S. Securities and Exchange Commission. Notable new positions in 3Q were Agrium (AGU) and 21st Century Fox (FOXA). The fund exited a position in Dresser-Rand Group (DRC).
The next part of this series will cover the fund's position in Valeant Pharmaceuticals.