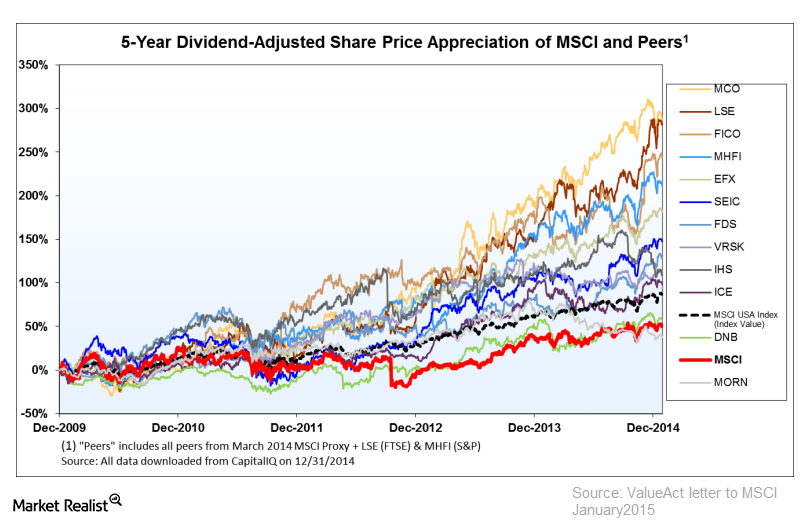 ValueAct challenges "One MSCI" strategy
ValueAct questions efficacy of "One MSCI" strategy
In Part 2 of this series, we noted that activist hedge fund and MSCI shareholder ValueAct Capital published a letter about the MSCI board's refusal to allow the fund representation on the board.
The fund said that it had made the request to join the MSCI board in August last year "due to its significant and unanswered questions of strategy and organization." The fund said MSCI's leading franchise in performance benchmarking and index creation has grown organically over the years. It added that it believes "MSCI's acquired business lines, Risk Management Analytics and Portfolio Management Analytics software, also have strong competitive positions and great potential."
ValueAct said it has "challenged management on its 'One MSCI' strategy of centralizing management and in some cases bundling license contracts across the Index, Portfolio Analytics and Risk Analytics business lines because it has not
seen market share gains in any of the businesses."
Article continues below advertisement
Reports note that MSCI rejected ValueAct's request for a board seat because the fund is pushing for a separation of the company's indices business from its portfolio management and software businesses. A report in the Financial Times by Stephen Foley citing unconfirmed sources said that the indices business could be attractive to stock exchanges.
For 3Q14, MSCI's Index and ESG product revenues grew 14.5% to $148.4 million and accounted for 59% of total revenue.
ValueAct contends MSCI lagging in value creation
The letter further says, "And as the index business continues to grow at a double digit rate, with its attendant high incremental margin, we cannot understand where all the money is going. The answers to these challenges and others we have raised are not clear from the public record or our discussions with management. Most importantly, the track record of value creation in recent years is at the bottom of the company's peers."
In September 2014, MSCI approved a quarterly dividend and raised its share repurchase authorization to $850 million from $300 million. MSCI expects to return approximately $1 billion to its shareholders by the end of 2016.
ValueAct's letter included a graph showing how MSCI lags behind its peers McGraw Hill Financial (MHFI), which owns S&P indices, and the London Stock Exchange (LDNXF), which owns FTSE, Fair Isaac Corporation (FICO), FactSet Research Systems Inc. (FDS), and Verisk Analytics Inc. (VRSK).
ValueAct's quarterly filings
The fund's latest 13D amendments include MSCI Inc. (MSCI), Allison Transmission Holdings (ALSN), Armstrong World Industries (AWI), and Rockwell Collins (COL).
The fund also updated its positions in Adobe Systems Inc. (ADBE) and Valeant Pharmaceuticals (VRX) via a Form 4 filed with the U.S. Securities and Exchange Commission. Notable new positions in 3Q were Agrium (AGU) and 21st Century Fox (FOXA). The fund exited a position in Dresser-Rand Group (DRC).
The next part of this series will review the fund's activist filing on Allison Transmission.