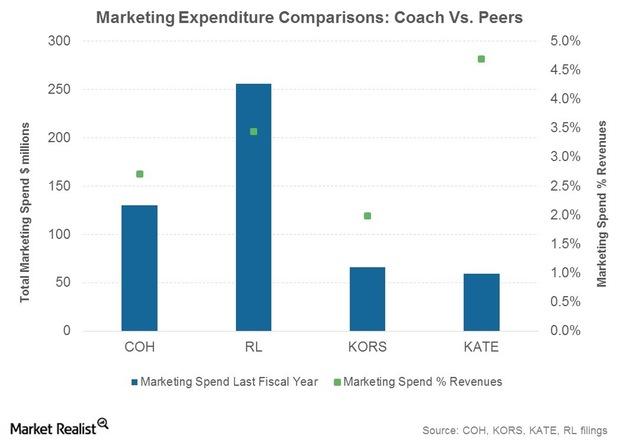 Understanding Coach's Marketing Strategies
Marketing and branding
As a luxury and discretionary (XLY) brand, creating the right brand image for its products and effectively marketing the brand worldwide are vital to Coach's (COH) sales. Brand image is created and marketed by the company's in-house creative marketing, visual merchandising, and public relations teams.
The company spent 2.7% of net sales, or $130 million, in fiscal 2014,[1. Fiscal year ending June 28, 2014] in support of marketing activities. In contrast, rivals Michael Kors (KORS), Ralph Lauren (RL), and Kate Spade (KATE) spent $65.7 million, $256 million, and $59.3 million, respectively. This translates to 2.0%, 3.4%, and 4.7% of revenues, respectively, for the three brands.
Article continues below advertisement
Market research
Coach uses its own market research capabilities to gauge customer trends and preferences. To support its direct marketing initiatives, the company has a database of 24 million households in North America and 10 million in Asia.
The company's communications with customers are mainly done via email and direct mail. Web traffic growth at its e-commerce sites translates to growth in its customer database. Web traffic at its e-commerce sites grew from 50 million in fiscal 2007 to 76 million in fiscal 2014.
These are some of Coach's marketing initiatives:
Direct marketing activities – advertising in national and international media, especially during high-volume selling seasons such as Thanksgiving and Christmas
Targeted sales – leveraging its database of households to target customers for specific products and generate sales across multiple channels
Flash sales – reducing prices for select periods on its websites, as well as in company operated stores
International outreach – maintaining informational websites in countries where it doesn't yet have a retail presence, whether direct, or through wholesale or web channels
Social media
Social media are increasingly popular and cost effective ways for consumer companies to reach a wide and international audience, even in countries where a company might not have a sales presence. For example, in recent years, companies like NIKE (NKE) have shunned print and television advertising to concentrate on building a digital presence.
Coach is one of the first luxury goods makers to use the Internet to generate sales. It's also involved in leveraging social media sites such as Facebook, Twitter, Instagram, Pinterest, and Sina Weibo, among others, to generate brand excitement, make brand announcements, and reach out to a larger customer demographic.
Meanwhile, in keeping with the company's transformation plan, Coach's marketing strategy is undergoing significant changes. Part 16 of this series look at these changes and discusses their impact on sales.