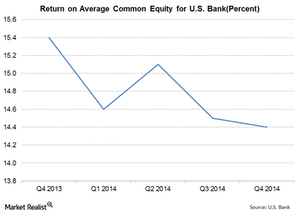 U.S. Bank's return on equity and assets fell in 4Q14
By Saul Perez

Updated
Return on equity is important for shareholders
Return on equity, or ROE, is the percentage of return that a shareholder gets. All else remaining constant, a bank with a high ROE is better. However, you should consider that a bank may also increase its ROE by taking higher risks—like disbursing high-risk loans.
As a result, you should be careful when you look at ROE. Banks with a combination high ROE and a low bank efficiency ratio are considered to be the best.
Article continues below advertisement
U.S. Bank's ROE fell in 4Q14
U.S. Bank's (USB) ROE was 14.4% at the end of 4Q14. This was lower than a ROE of 15.4% at the end of 4Q13. The fall was driven by lower margins on a higher loan base. This was reflected in a decrease in return on assets. Return on assets was 1.50% at the end of 4Q14.
However, this fall wasn't something unique to U.S. Bank. At the end of 4Q14, the banking sector's ROE was 8.74%. The sector's ROE fell throughout 2014. At the end of 4Q13, ROE was 9.78%.
The trend of falling ROE was true for most of the banks in the Financial Select Sector SPDR (XLF)—like JPMorgan Chase (JPM), Bank of America (BAC), and Wells Fargo (WFC).
This reflected banks' lower pricing power. Banks are disbursing newer loans at lower rates. This is because the amount of money in the banking system remains high—after a sustained period of loose monetary policy. U.S. Bank has a combination of a high ROE and a low bank efficiency ratio. It's considered to be one of the best banks for investors.