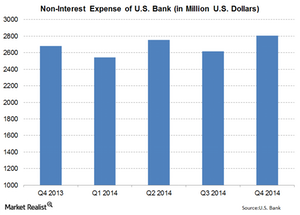 Why U.S. Bank's non-interest expenses rose in 4Q14
By Saul Perez

Nov. 20 2019, Updated 12:17 p.m. ET
Non-interest expenses are important for net profitability
For banks, non-interest expenses are similar to operating costs for other companies. Interest expenses, also called interest paid on deposits, are costs that a bank must incur to carry out its prime job of lending. However, non-interest expenses can be controlled. Controlling non-interest expenses helps a bank have higher net profitability.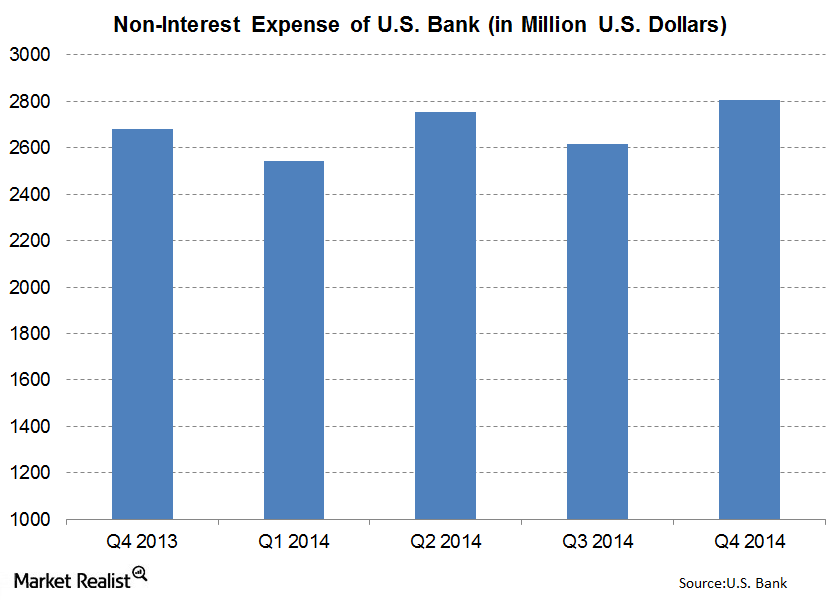 Article continues below advertisement
U.S. Bank recorded an increase in non-interest expenses 
U.S. Bank's (USB) non-interest expenses were $2,804 million in 4Q14. This was an increase of 4.5%—compared to 4Q13. The increase was driven three main factors.
First, higher compensation expenses—due to the impact of merit increases, acquisitions, and higher staffing for risk and compliance services—led to an increase in non-interest expenses. Compensation expenses rose by 4.4%—compared to 4Q13.
Second, higher marketing and business development expenses, due to charitable contributions, led to an increase in non-interest expenses. Marketing and business development expenses included charitable contributions of $35 million to improve the bank's branding. The expenses rose by a substantial 25.2%—compared to 4Q13.
Third, higher professional services expenses, also due to higher costs across a majority of business lines, led to an increase in non-interest expenses. These expenses rose by 11.9%—compared to 4Q13.
Accruals for legal expenses also stood at a significant $53 million.
In contrast, the rise in non-interest expenses was partially offset by a reduction in employee benefits. A reduction in employee benefits was driven by lower pension costs.
U.S. Bank is a major part of the Financial Select Sector SPDR (XLF). It is the sixth largest holding of XLF. It accounts for 2.63% of the portfolio. Wells Fargo (WFC), JPMorgan Chase (JPM), and Bank of America (BAC) are bigger parts of XLF.