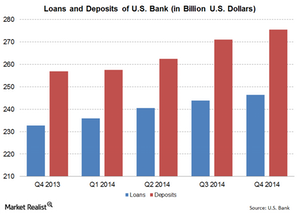 U.S. Bank's loans and deposits stayed strong in 4Q14
By Saul Perez

Updated
U.S. Bank needs to remain strong in loans and deposits
As we indicated earlier, U.S. Bank's (USB) strategy is to consolidate its presence in a chosen geography. It plans to focus on a few select product offerings. Without such a strategy, it would be difficult for a smaller bank, like U.S. Bank, to compete with big players—like JPMorgan Chase (JPM), Bank of America (BAC), and Wells Fargo (WFC).
As part of the strategy, U.S. Bank is consolidating its presence in the West and Midwest. It's focused on providing traditional banking services. Investors can expect the bank to remain strong in deposit mobilization and loan disbursements.
Article continues below advertisement
Impressive growth in loans and deposits 
At the end of 4Q14, U.S. Bank's total deposits were $275.5 billion. This was 7.2% growth—compared to 4Q13. On the loans front, U.S. Bank had a loan book of $246.4 billion at the end of 4Q14. This was 5.9% growth—compared to 4Q13.
However, U.S. Bank made a small acquisition at the end of 4Q13. U.S. Bank acquired Charter One Bank's Chicago banking operations. This added 94 branches to U.S. Bank. Adjusting for the acquisition, the growth rate for both loans and deposits was 5.5%. U.S. Bank increased its deposits and loans at a decent rate over the course of the year.
As a result, U.S. Bank was one of the better performing banks in the Financial Select Sector SPDR (XLF). However, deposits and loans have many finer points that need to be considered. We'll discuss these points more throughout this series.