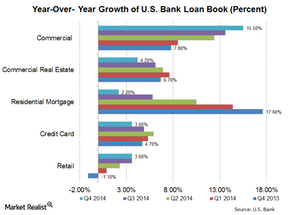 Why U.S. Bank's loan growth showed interesting trends
U.S. Bank's five main loan categories
You need to understand loan categories better in order to see some very interesting trends in U.S. Bank's (USB) loan growth. U.S. Bank's loans are divided into five main categories. The categories are:
Retail loans – These include non-housing loans to retail clients, like auto loans
Credit card loans – These include loans taken on credit cards
Residential mortgage loans – These include mortgages taken by retail clients
Commercial real estate loans – These include real estate loans taken by corporations
Commercial loans – These include loans taken by businesses
This is the conventional classification for loans. All of the banks in the Financial Select Sector SPDR (XLF) have exposure to these loan categories.
Article continues below advertisement
Article continues below advertisement
Residential mortgage loans slowed down
The most important trend visible from the above chart is that U.S. Bank is slowing down its loan growth in residential mortgages. At the end of 4Q14, residential mortgages' growth rate was 2.2%. This is a significant slowdown from a growth rate of 17.6% in 4Q13. In fact, this trend of slowing growth in residential mortgages held true throughout 2014.
Other banks—like JPMorgan Chase (JPM) and Bank of America (BAC)—also slowed down on residential mortgages in 2014. Wells Fargo (WFC) was the only large bank to report a healthy growth rate in residential mortgage loans. We'll watch management's guidance to see if this change is due to any calibrated shift in strategy or if it's due to economic factors.
Commercial loan growth picked up
Since residential mortgage loans fell in importance, commercial loans took their place. The commercial loan growth rate nearly doubled in 2014. Commercial loan growth was 15.5% in 4Q14—compared to 4Q13. The growth in commercial loans was primarily due to increased economic activity.