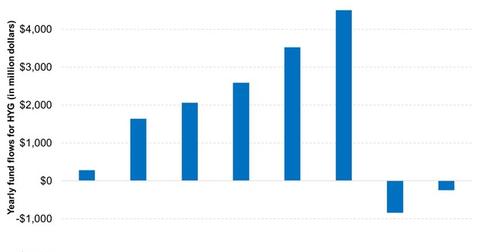 The Link Between Oil Prices And High Yield Bond Yields
By Matt Tucker, CFA

Jan. 14 2015, Published 8:56 a.m. ET
With all the hype around high yield bonds these days, how do investors know whether the asset class is right for them? Matt Tucker takes a step back to look at the considerations for investing in high yield, as well as the role these bonds should play in a portfolio.
There's been much ado about high yield bond ETFs in the media for a while now.  And with good reason – after a short stint as the asset class of choice for yield-hungry investors, these funds have been riding a roller coaster of late, making headlines for everything from large redemptions to trading volume. I think it's a good idea to step back and ask a more fundamental question: what role does high yield play in an investor portfolio?
Article continues below advertisement
Market Realist – High yield bond fund flows turn negative
The Fed has kept its monetary policy quite loose to counter the effects of the Great Recession. The Fed introduced QE (quantitative easing), a bond-buying program in which the Fed aggressively purchased Treasuries (TLT), and MBS (mortgage-backed securities) to pump money back into the bruised economy. This caused an artificial scarcity of Treasuries, lowering Treasury yields to a record low.
Investors tapped into riskier assets such as high yield bonds and equities (IVV) instead, driving their values higher.
The graph above shows the fund flows for the iShares iBoxx $ High Yield Corporate Bond ETF (HYG) over the last eight years. Fund inflows peaked at close to $4.5 billion in 2012. This is when high yield bonds started looking expensive.
However, high yield bond fund flows have turned negative since. HYG saw outflows in 2013 and 2014. Crude oil (USO) prices started slumping in late 2014, and this adversely affected high yield bonds in the energy sector (XLE). Massive outflow from high yield bonds resulted, as investors feared a default cycle.