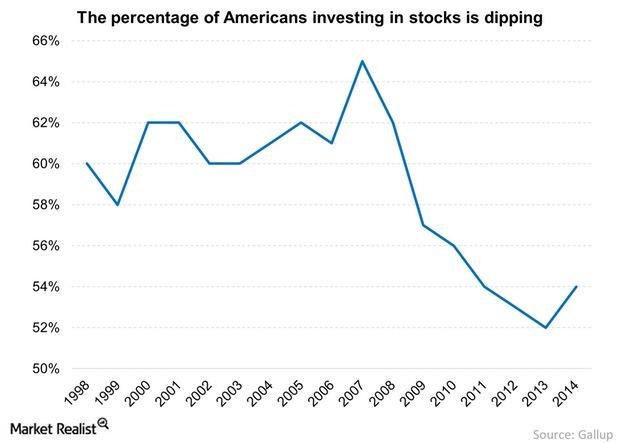 Why stock ownership has dipped in the United States
By BlackRock-iShares-ETFs

Jan. 20 2015, Updated 12:41 p.m. ET
Young investors who keep their money in cash may think they're playing it safe, but the strategy could cost them in the long run.
A recent Bank of America-Merrill Lynch survey found that almost half (47%) of 1 ,000 affluent Americans—defined by Merrill as Americans with investable assets in excess of $250, 000—describe themselves as "conservative investors," meaning that they favored low to moderate risk investments intended to deliver modest but steady gains. Among young investors aged 18 to 34, that number soared to 59 percent.  (As compared to 41% among investors aged 35-64.)
Article continues below advertisement
Market Realist – Conservatism toward stocks has caused a dip in stock ownership
Not only are investors getting conservative, but the number of Americans investing in stocks (SPY)(IVV) is decreasing. This could be because they're conservative.
The above graph shows the percentage of Americans investing in stocks. As you can see, the percentage of stock ownership has been dipping since the financial crisis. Currently, it stands at 54%. This is much lower than the pre-crisis level of 65%.
The percentage reduced after the bursting of the tech (QQQ) bubble and after the financial (XLF) crisis as volatility (VXX) increased and many investors were spooked. These two events caused the percentage to dip. However, the recent surge in the US stock market has pulled some investors back into the stock market in 2014.
The next part of the series explains why young investors should take more risks and invest more in stocks rather than bonds or cash.