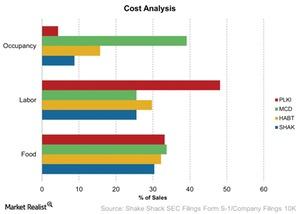 Understanding Shake Shack's Three Key Costs
Analyzing key costs
So far, we've looked at Shake Shack's (SHAK) revenues and drivers. It's also important to understand how the company has been managing its key costs. In this part of the series, we'll look at restaurants' three key costs:
food
labor
occupancy costs
Article continues below advertisement
Article continues below advertisement
Food
The above chart shows Shake Shack's three key costs in 2013. It also shows the key costs for other restaurants. As a percentage of sales, Shake Shack had the lowest cost of food at 30.3%—compared to The Habit (HABT). The Habit is a relatively new company. It had a food cost of 32.2%. McDonald's (MCD) and Popeye's (PLKI) had food costs of 33.7% and 33.1%, respectively.
Labor
As a percentage of sales, Shake Shack's labor costs are 25.5%. McDonald's labor costs were 25.5%. The Habit's labor costs were 29.7%. Popeye's had the highest labor costs at 48%.
It's important to note that these costs are a percentage of relevant company-operated sales. They aren't the company's entire sales. This gives a more accurate picture when we look at the above costs.
Occupancy
Shake Shack's occupancy costs were 8.7% for 2013. The Habit occupancy costs were 15.7%. Popeye's occupancy costs were 4.3%. McDonald's had the highest occupancy costs at 37.1%. This shouldn't be a surprise because McDonald's holds most of its properties. As a result, it has a higher occupancy costs.
The Consumer Discretionary Select Sector SPDR (XLY) is a broad ETF. It holds several restaurant stocks—including McDonald's and Chipotle Mexican Grill (CMG).
Shake Shack's above costs are slightly lower—compared to its peers. The costs are spread over higher sales from newer company-operated restaurants.
In the next part of this series, we'll look at Shake Shack's operating margins.