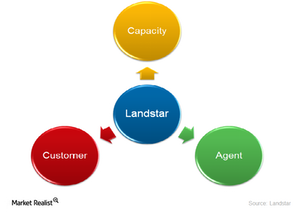 A look at Landstar's business model
By Ally Schmidt

Jan. 28 2015, Updated 5:30 p.m. ET
Landstar's business model
As part of Landstar System's (LSTR) unique business model, the company does not own any transportation or trucking equipment. The company contracts with more than 1,000 independent sales representatives located throughout the United States. These sales reps sign contracts or lease agreements with small independent owner-operator trucking companies known as business capacity owners (or BCOs) and independent contractors. These entities agree to provide Landstar with truck capacity in exchange for the company's services.
Article continues below advertisement
Through these sales reps, Landstar arranges business for the BCOs (97% of which are generally owners of five or fewer trucks) by finding customers who want cargo transported. The company gathers the revenues from the customer and pays the sales rep 8% of the revenues. In these transactions, the BCOs receive about 65–75% of the revenues, depending on the fleet provided, and retain the rest for technology, insurance, paperwork, and profits.
The BCOs are responsible for all the expenses of operating their equipment. The advantage of this model is that an empty truck does not hurt the company. In turn, a smaller truck driver would rather work than leave a truck empty. Because they receive the lion's share of the revenue, the BCOs are satisfied. Plus, with many such BCOs hauling freight, the company receives earnings as well.
Revenue generation
Landstar's success is highly dependent on high revenue-generating sales reps, as well as on the volume increases by BCOs and customers. The small trucking companies that sign on with the company's sales reps are either brokers or carriers (43% of 2013 revenues) or owner-operators or BCOs (50% of 2013 revenues).
Major players in this industry include J.B. Hunt Transport (JBHT), Old Dominion Freight Line (ODFL), and Werner Enterprises (WERN). Some of these companies are part of the First Trust Industrials/Producer Durables AlphaDEX Fund (FXR).