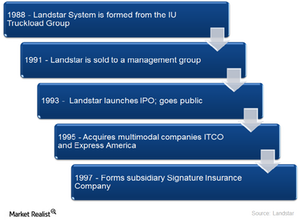 Landstar: Where it all started
By Ally Schmidt

Jan. 27 2015, Published 11:30 a.m. ET
Brief history
NEOAX, an industrial services company based in Stamford, Connecticut, acquired IU International Corp in 1988 through a hostile takeover. NEOAX then sold one of IU's seven trucking companies and closed another unit.
Landstar System (LSTR) was formed in order to purchase the IU Truckload Group from NEOAX in a management buyout. Landstar paid $94 million in cash plus $16 million in stock for the unit, while NEOAX retained 49% ownership.
Article continues below advertisement
Later in 1991, NEOAX (then EnviroSource) sold its stake to Landstar Holding Corp. for $12 million in cash plus the assumption of more than $70 million in debt. The company was led by CEO Jeffery Crowe, who placed heavy emphasis on safety and implemented various innovative measures within the company. The company exceeded $620 million in revenues in the early 1990s and bought several small to mid-sized truckload carriers during the period.
Public Issue
Landstar completed its initial public offering in 1993 and took in $30.3 million, which it used to pay its debt. This in turn helped the company focus on operations and also pursue acquisitions to grow inorganically. The company later acquired three companies in 1994–95—Intermodal Transport Co., LDS Truckline, and TLC Lines of St. Clair—which helped expand the company's service offerings.
Landstar Express America was formed in 1995 to acquire Express America Freight Systems, while the operations of Landstar TLC merged with those of Landstar Inway in 1997. The company invested $12 million in upgrading its IT and communications systems, making use of satellite technology and mobile equipment to track its fleet.
Landstar grew using a unique business model to become the fourth largest company by market cap, after J.B. Hunt Transport Services (JBHT), Old Dominion Freight Line (ODFL), and Swift Transportation Co. (SWFT). These companies are a part of the iShares Transportation Average ETF (IYT).