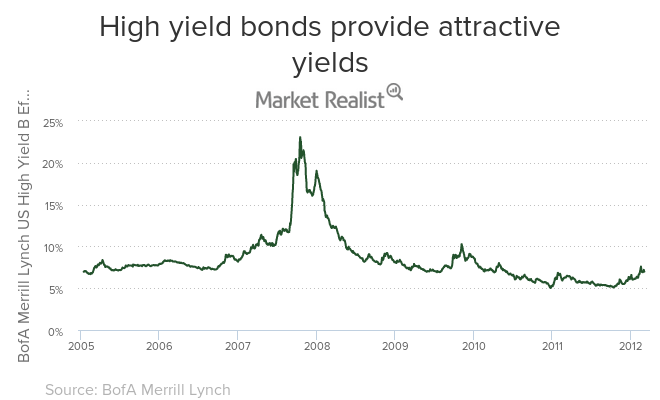 Junk Bond Yields Are High, But Beware Of The Caveat.
By Matt Tucker, CFA

Jan. 14 2015, Updated 12:56 p.m. ET
So what are the considerations for investing in high yield bonds?  The obvious attraction is yield, particularly for income seeking investors battling with a prolonged low interest rate environment.  The iShares iBoxx $ High Yield Corporate Bond Fund (ticker: HYG) has a 30-Day SEC yield of 6.46% (as of 1/12/15). However, it's important to note that this yield comes at a price – namely, higher credit risk than most fixed income securities, and therefore a higher risk of default.  It's this perilous reputation that earned them the moniker "junk" bonds.
[marketrealist-chart id=203546]
Article continues below advertisement
Market Realist – Junk bond yields depend upon the state of credit markets
The graph above shows the BofA Merrill Lynch US High Yield B Effective Yield for the last ten years. The yield stood at 6.98% on January 9, 2015.
High yield bond (HYG)(JNK) prices are cyclical in nature. When the economy and the credit markets are improving, high yield bonds usually perform well. Likewise, when the economy and the credit markets are deteriorating, high yield bond prices crash as the probability of default heightens. A junk bond has a rating below BBB on Standard & Poor's or a Moody's rating that is below Baa.
Treasuries (TLT)(IEF) usually do well when the economy is in the doldrums. That's because investors seek shelter from risky assets like high yield bonds and equities (IVV). When the economy is up and running, investors switch to riskier assets, compressing the spread between Treasuries and high yield bonds.
The key point is that junk bond yields are high for a reason. Investors take on high credit risk in order to procure high yield. Similarly, Treasuries demand a premium because of the safety they offer, and have low yields for the same reason.