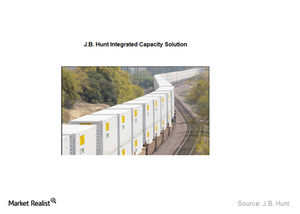 J.B. Hunt's Integrated Capacity Solutions segment
By Ally Schmidt

Updated
Integrated Capacity Solutions segment
J.B. Hunt's (JBHT) Integrated Capacity Solutions, or ICS, segment provides non-asset, asset-light, traditional freight brokerage and transportation logistics solutions to customers.
An asset-based carrier has the assets—for example, trucks, terminals, and warehouses—to provide physical pickup, line-haul, and delivery service.
Asset-light transportation providers utilize strategic alliances with other asset-based providers, owner operators, and brokers to supplement—or in some cases replace—their own assets. This helps reduce the large capital expenditures that are usually required to maintain company-owned fleets.
Non-asset transporters are providers without a carrier's assets—for example, trucks, terminals, planes, or warehouses. Non-asset providers assume responsibility for a shipment. However, they use asset-based carriers' resources to provide physical pickup, line-haul, and delivery service.
Article continues below advertisement
JBHT has partnerships with thousands of third-party carriers and integration with equipment owned by JBHT. By leveraging their brand, systems, and network, JBHT brings a service offering to customers by providing flatbed, refrigerated, expedited, and LTL (less-than-truckload). It also offers various dry-van and intermodal solutions.
The ICS segment operates 24 remote sales offices or branches, as well as on-site logistics personnel working in direct contact with customers. At the end of 2013, the ICS segment employed 503 people. It had a carrier base of ~34,600. For 2013, ICS revenue was $537 million.
In 2013, JBHT opened nine outside branches. It plans to add another 11 branch offices. Through the marketing efforts in the ICS segment, the company focuses on new customers and develops expanded revenue streams. This will likely help the company generate growth in the three other segments as well.
Major players in this industry include JBHT, Landstar System (LSTR), Old Dominion Freight Line (ODFL), and Werner Enterprises, Inc. (WERN). Some of these companies are part of the First Trust Industrials/Producer Durables AlphaDEX Fund (FXR).