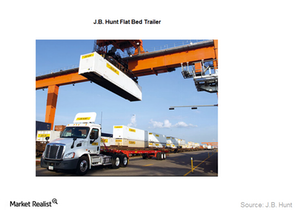 Why J.B. Hunt's Full-Load, Dry-Van segment is important
By Ally Schmidt

Updated
Understanding the JBT segment
J.B. Hunt's (JBHT) Full-Load, Dry-Van, or JBT, segment offers full-load, dry-van freight. It utilizes tractors operating over roads and highways. Full truckload shipping, or FTL, is the movement of at least the amount of freight necessary to fill an entire semi-trailer or intermodal container. A dry van is a standard trailer that doesn't need to have the temperature controlled. It's designed to carry freight that's loaded on pallets, packed in boxes, or otherwise secured within the trailer.
Article continues below advertisement
JBHT usually picks up freight at the dock or the shipper's specified location. It transports the load directly to the consignee's location. JBHT uses company-owned tractors and employee drivers. It also uses independent contractors. The independent contractors agree to transport freight in their trailers.
At the end of 2013, the JBT segment operated 1,200 company-owned tractors. It employed 1,491 people—1,206 of them were drivers. JBHT also had 657 independent contractors. Some of the independent contractors were leasing company-owned tractors. For 2013, JBT's revenue was $391 million.
In 2014, the company appointed new management for the segment. The new management has substantial experience to guide the segment back to sustainability. JBHT is also investing in new tractors and trailers for this division. However, it doesn't expect financial recovery until 2015.
JBHT's major competitors in the US are YRC Worldwide (YRCW), Swift Transportation (SWFT), and Werner Enterprises, Inc. (WERN). These companies are a part of the iShares Transportation Average ETF (IYT).