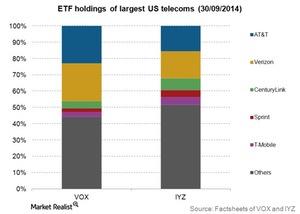 Investment opportunities in the US telecom industry
US telecom ETFs
Investors that like the US telecom industry's fundamentals—for example, stable cash flows and high dividend yield—may invest in telecom ETFs. Earlier in this series, we discussed how the US telecom industry concentrates on the two large integrated players—AT&T (T) and Verizon (VZ). Therefore, if investors want more balanced exposure to the domestic telecom sector, they should invest in ETFs. On individual securities, ETFs have investment limits that diversify the risk.
The two largest telecom ETFs that focus on the US are the Vanguard Telecommunication Services ETF (VOX) and the iShares U.S. Telecommunications ETF (IYZ). Both of these ETFs are weighted by stocks' market capitalization. They have more than 99% allocation to domestic equities.
Article continues below advertisement
VOX
VOX is the largest US telecom ETF. It's benchmarked to the MSCI US Investable Market Telecommunication Services 25/50 Index. It has 30 US telecom companies. At the end of 3Q14, around half of the ETF had large-cap telecoms. In its allocation, it had around a quarter each of mid-cap and small-cap stocks. The ten largest holdings of the ETF represented ~72% of the total net assets. The ETF held 23% in both Verizon and AT&T. CenturyLink (CTL), T-Mobile (TMUS), and Sprint (S) contributed to ~10% of the total holdings.
IYZ
In the US, IYZ is the most liquid telecom ETF. It follows the Dow Jones U.S. Select Telecommunications Index. The benchmark index has lower investment limits for individual securities—compared to VOX's MSCI benchmark. Investors that want to invest in a more balanced allocation of telecoms than VOX may like this ETF.
At the end of 3Q14, IYZ held 27 stocks. Its concentration in the ten largest holdings was ~72%. It was similar to VOX. However, the ETF had lower holdings in Verizon at ~17% and AT&T at 16%—compared to VOX. This was mainly due to relatively lower single security investment limits in its benchmark index. CenturyLink was the third largest holding in IYZ. It contributed ~7% to the total ETF.
For the latest news on the telecom industry, visit Market Realist's Tech, Media, and Telecom page.