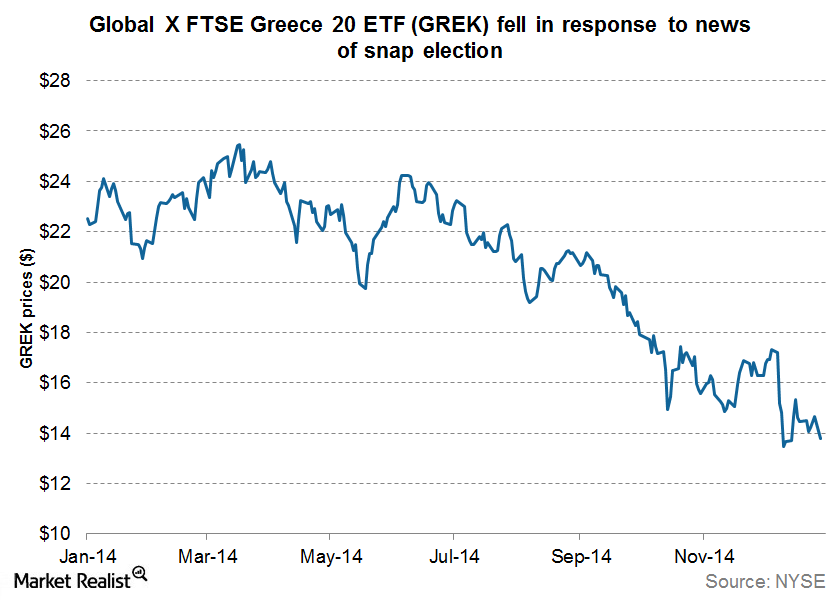 Is Greek Political Instability A Tragedy In The Making?
Greece's ruling coalition is at risk of losing its grip on power, which sent the country's stocks and bonds dramatically down. Is this the beginning of another Greek crisis?
Like a villain that dies at the end of a horror movie only to be resurrected in its sequel, the threat of Greek political instability is once again stalking financial markets. Greek Prime Minister Antonis Samaras moved up the date for a parliamentary vote on a new president, a largely ceremonial position. Samaras's existing coalition with 155 seats was unable to obtain a supermajority—180 out of 300 lawmakers—to pass that vote. They have failed, this has precipitated a snap election. Based on recent polls, the likely winner of that election would be the far-left party, Syriza, who would probably be forced to govern as part of an unstable coalition. The news unnerved investors, sending Greek stocks and bonds tumbling and in turn raising the question: Are we in for another round of European led volatility?
Article continues below advertisement
Article continues below advertisement
Market Realist – It's indeed déjà vu as a fresh round of worry over Greek political instability engulfs the Eurozone (EZU). Stavros Dimas, a former European commissioner, was nominated by Greek Prime Minister Samaras as his presidential candidate. Dimas was only able to secure 168 votes of the 180 needed, triggering a snap election set for January 25, 2014.
Market Realist – The news of the snap election is causing jitters throughout Europe. The Athens Stock Exchange dropped 11% on Monday in response to the news. The index is now 33% down for 2014. You can track Greek stocks through the Global X FTSE Greece 20 ETF (GREK). You can see the price movement of GREK above.
Greek bonds are again facing a steep sell-off. In a reminder of 2010, when the yields of ten-year Greek government bonds rose to 11%, Monday saw yields rise to 9.39%. Greek banking stocks, in particular, suffered losses, with the National Bank of Greece (NBG) falling 8.08% on the New York Stock Exchange.
The news caused turmoil in global markets (QWLD) as well. The stock markets in Spain and Italy took a hit as Spain's IBEX 35 fell 1.4% and Italy's FTSE MIB fell 2.1%. Concerns about Europe might fuel a fresh inflow into US Treasuries (TLT), often considered a safe haven asset.
Read on to the next part of this series to see why Greek political instability might cause turmoil going ahead.