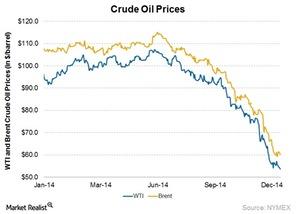 Effect of crude oil price fall may not be uniform across US shales
By Alex Chamberlin

Updated
Why oil price is important for energy producers
From our discussion in the previous sections of this series, we saw that oil rigs are recently on a decline, although crude oil production continues to rise. West Texas Intermediate (or WTI) crude oil price has fallen by more than 50% since its high in June. WTI reflects the producers' oil prices in the United States.
Brent crude oil price, the international benchmark of crude oil price, is down nearly 50% during the same period.
Article continues below advertisement
A drop in crude oil price reduces upstream oil companies' revenues. Some upstream operators, in turn, have reduced their capex (capital expenditures) budgets in response. These include Apache Corporation (APA) and Continental Resources (CLR). Lower oil prices also lead to renegotiation of transportation costs, which negatively affects midstream energy operators such as Spectra Energy (SE) and Kinder Morgan Inc. (KMI). Some of these are components of the Energy Select Sector SPDR ETF (XLE). Read Market Realist's article An overview of Spectra Energy.
Investors, however, should note that an oil price drop can have different effects at various shale plays. The returns from drilling at unconventional resource plays are typically higher than conventional wells in the United States. One of the reasons this is so is because companies in the shale oil plays deploy hydraulic fracturing techniques and horizontal drilling, which are more expensive.
Article continues below advertisement
Why crude price fell
To a certain extent, US energy companies are falling victim to their own success. They're pumping more oil and gas with fewer rigs and less drilling and finishing wells faster than just a few years ago. Read part 1 of this series to find out how US crude oil production is growing faster than consumption.
Industry spending to go down
Hydraulic fracturing and horizontal drilling have helped increase US oil production more than 60% since 2010 to 9 million barrels a day. If that growth is interrupted, energy-sector spending could drop by $40 billion, according to Barclays Plc.
Read the following section to know why.