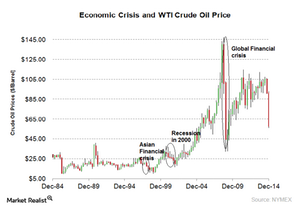 How an economic crisis affects the price of crude oil
Economic crisis and oil prices
Oil oversupply has been the key driver of oil prices recently and is likely to dominate. However, investors should know that economic growth also plays an important role. When economic growth slows, consumer demand declines. This has a negative impact on crude oil price movements.
Economic growth directly impacts international oil-producing companies such as Exxon Mobil (XOM) and Chevron Corporation (CVX). It also impacts US oil producers such as Chesapeake Energy (CHK) and Concho Resources (CXO). These companies are part of ETFs such as the Vanguard Energy ETF (VDE).
Article continues below advertisement
Major economic crises in the past
The Great Depression in the 1930s is considered the mother of all financial crises. It lasted for almost ten years. Some other financial crises include the Asian financial crisis of 1997, the 2000 recession, and the 2008 global financial crisis, which is considered one of the greatest financial crises since the Great Depression.
The common factor during an economic crisis is that economic growth slows down. Demand declines, which has a negative impact on oil prices. During the 2008 financial crisis, crude oil prices declined from the peak of $147 per barrel to $32 per barrel.
The current situation
The European economy is still in the shadow of the 2008 financial crisis. It has high debts and high unemployment. There are concerns that Europe and Japan, the fourth-largest consumer of crude oil, might enter a recession.
Russia's economic growth is also fragile. It's the fifth-largest consumer of crude oil. Russia could possibly enter a recession in 2015.
Investors should follow global growth-and-demand indicators. We'll cover those indicators and how they impact oil prices in the next part of this series.