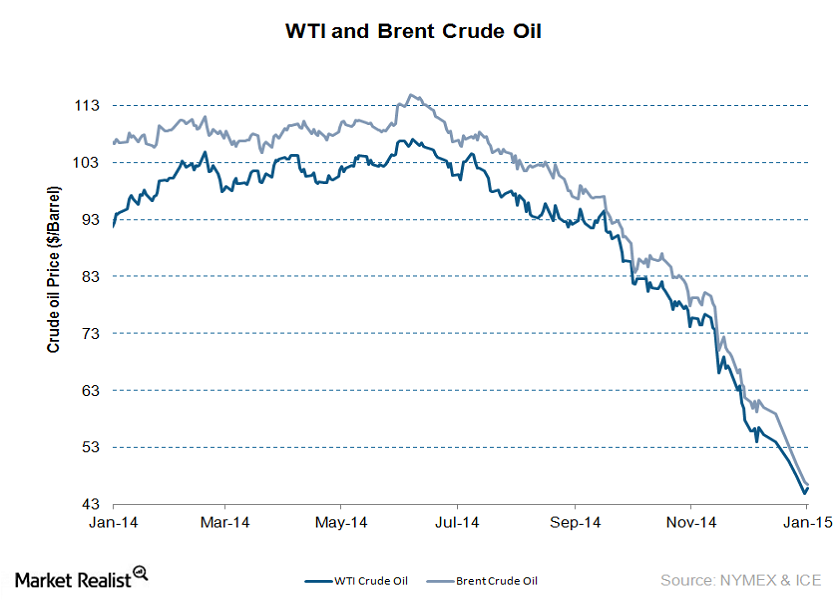 The crude oil market: An overview
By Gordon Kristopher

Nov. 20 2019, Updated 3:53 p.m. ET
The crude oil market
Crude oil prices have been on a roller coaster ride in 2014. West Texas Intermediate (or WTI) was trading at $107 per barrel in June 2014, and it's trading now at $45 per barrel. WTI crude oil has declined ~58% since the middle of June. Brent crude oil has also declined ~69% from mid-June. This huge decline in crude oil prices is not unusual. It has happened multiple times in the past.
Article continues below advertisement
Oil price benchmarks
WTI crude oil is the benchmark crude for US oil. WTI is priced at Cushing, Oklahoma, and represents the receiving price of oil producers in the United States. WTI oil prices drive US oil producers' margins.
Brent crude oil is the benchmark of international crude oil price. It represents the receiving price of international oil producers. These benchmark prices are key to the profitability of energy stocks for companies such as Chesapeake Energy (CHK) and Concho Resources (CXO) with production based in the United States. On the other hand, lower Brent oil prices impact the margins of companies such as Exxon Mobil (XOM) and Chevron Corporation (CVX) with significant production overseas. These companies are part of energy ETFs such as the Vanguard Energy ETF (VDE).
Why investors should read this series
If you're a crude oil investor and want to know the key factors that are impacting oil prices in the short term and long term, this series will help you achieve that purpose.
The indicators discussed in this series are helpful to investors who want to determine whether the industry's fundamental outlook is favorable or not. By the end of the series, investors will be able to use these indicators to gauge the crude oil price movements in the short term and long term.