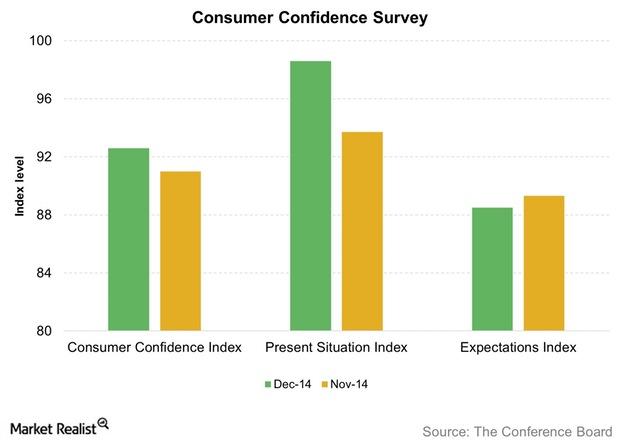 Why did consumers' confidence rise in December?
Confidence rises
In the US, consumers were feeling more confident about the economy in December—according to a survey by The Conference Board. The Conference Board is a private research entity. The Board's Consumer Confidence Index rose to 92.6 in December—compared to 91 in November. For November, the index was revised from an initially reported value of 88.7.
The small rise in confidence in December was primarily because of improving economic and job market conditions. This was also reflected in the Present Situation Index. It was 98.6 in December—the highest level since February 2008. In February 2008, the index was 104. This index represents consumers' reading of the current economic conditions.
Article continues below advertisement
If consumers are confident about the economy, and they have income to spend, it helps companies' profitability—like Procter & Gamble (PG), Mondelēz International (MDLZ), and Coca-Cola (KO). It also benefits ETFs—like the Consumer Staples Select Sector SPDR Fund (XLP) and the Consumer Discretionary Select Sector SPDR Fund (XLY). These ETFs invest in the previously mentioned companies.
Expectations dim
However, the upbeat mood wasn't spread over the coming six months. The Expectations Index gauges consumers' expectations over the period. It decreased to 88.5—from 89.3 in November. They were more positive about improving business conditions than the labor market—even though the number of people with these expectations decreased from November. It's important to note that 18% of consumers believed that business conditions would improve in the next six months. This was down marginally from 18.3% in November.
Meanwhile, 10.1% of the respondents believed that business conditions would get worse in the period—down from 10.4% in November. On the jobs front, only 14.7% of the people believed that there would be more jobs in the coming months. This number was down from 15.5% a month ago. Furthering the negative trend in jobs' expectations, 16.9% of consumers believed that there would be fewer jobs going forward—up from 16.1% in November.
Expectations on income growth were mixed. Only 16.4% of the respondents believed that incomes would rise—down from 16.9% in November. However, those expecting a decline in incomes also decreased to 10%—from 11% a month ago.