Chimera posts growth in third quarter profit and interest income
Chimera's core earnings grew to $116 million compared to $93 million in the year-ago period. Growth was mainly due to an increase in net interest income.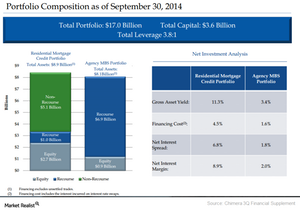 Chimera's 3Q results beat estimates
Chimera Investment Corporation's (CIM) 3Q14 net income grew to $378 million, or $0.37 per average share, compared to net income of $67 million, or $0.07 per average share, in the same period a year ago. A change in unrealized gain on financial instruments at fair value of $191 million drove earnings growth.
Core earnings grew to $116 million, or $0.11 per share, compared to $93 million, or $0.09 per share, in the year-ago period. The growth was mainly due to an increase in net interest income from the acquisition of additional agency RMBS during the second and third quarters of 2014.
Article continues below advertisement
Article continues below advertisement
Interest income rose by $60 million to $190 million for the quarter ended September 30, 2014, from $130 million for the same period in 2013. The increase was due to a growth in agency holdings of approximately $6.0 billion acquired at the end of the second quarter. It was also due to the increase in securitized loans of approximately $4.8 billion acquired during the third quarter.
Net interest income on its agency RMBS portfolio increased by $35 million, and net interest income on the securitized loan portfolio increased by $25 million.
GAAP book value increases sequentially by 4%
Chimera Investment's (CIM) GAAP (generally accepted accounting principles) book value was $3.50 per share, an increase of 4% from June 30, 2014, and an increase of 8% from December 31, 2013.
The company said, "Book value increases reflect the favorable market fundamentals for both agency and non-agency RMBS during the third quarter of 2014." It added that it "has added positions to both its agency and loans held for investment portfolios during 2014 which could have a positive impact on net interest income over the next few quarters."
Falling mortgage delinquencies favoring non-agency REITs
A recent report on the Market Realist website highlighted that mortgage delinquencies are falling as home prices rise and the foreclosure pipeline clears. It further noted that the current economic backdrop favors the non-agency REITs such as PennyMac Mortgage Investment Trust (PMT), Two Harbors Investment (TWO), and Redwood Trust (RWT).
The report adds that a combination of a better economy, skewed risk to the downside in interest rates, and increasing prepayment speeds favor taking a credit risk over an interest rate risk. Mortgage REIT or mREIT Chimera has a 4.88% weighting in the VanEck Vectors Mortgage REIT ETF (MORT).
In the next part of this series, we'll highlight the changes to Omega Advisors' position in Atlas Energy LP (ATLS).