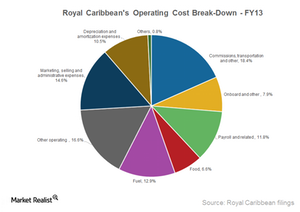 Breaking down Royal Caribbean's operating costs
Cruise operating costs
Costs directly related to operating a cruise ship comprise ~74% of Royal Caribbean's (RCL) total operating costs. The rest of the operating expenses related to marketing, selling and administrative expenses, depreciation and amortization, restructuring and impairment expenses, et cetera. We provide a detailed break-down of each cost component in the chart below.
Royal Caribbean's cruise operating costs include:
Article continues below advertisement
Article continues below advertisement
Commission, transportation, and other: These are costs that directly relate to passenger ticket revenue. They include travel agent commissions, air and other transportation expenses, variable port costs, and credit card fees. The costs comprise 18% of Royal Caribbean's total operating costs.
Onboard and other expenses, which comprised ~8% of the company's operating cost, consist of direct costs related to onboard and other revenues and include costs of products sold onboard, vacation protection insurance premiums, and costs related to tour packages.
Other ship operating expenses, comprising ~48% of total operating costs, include payroll, food and fuel costs, repair and maintenance, fixed port costs, lease costs, and costs related to insurance and entertainment.
Comparing fuel costs for cruisers and airlines
Fuel expense is one of the major costs for most transportation companies—represented by ETFs such as the PowerShares Dynamic Leisure and Entertainment Portfolio (PEJ), the PowerShares Dynamic Large Cap Growth Portfolio (PWB), and the Consumer Discretionary Select Sector SPDR Fund (XLY).
However, cruise liners incur lower fuel costs as a percentage of their total operating costs compared to airlines. In 2013, Royal Caribbean's fuel cost was ~13% of its operating cost, Carnival Corporation's (CCL) was ~16%, and Norwegian's (NCLH) was ~14%. For US airlines, fuel costs comprise ~30% of total operating costs. Cruise liners also use fuel derivatives to hedge their fuel risk—just like airlines do.
You'll find more detail on Royal Caribbean's unit revenue and unit costs in the next article in this series.