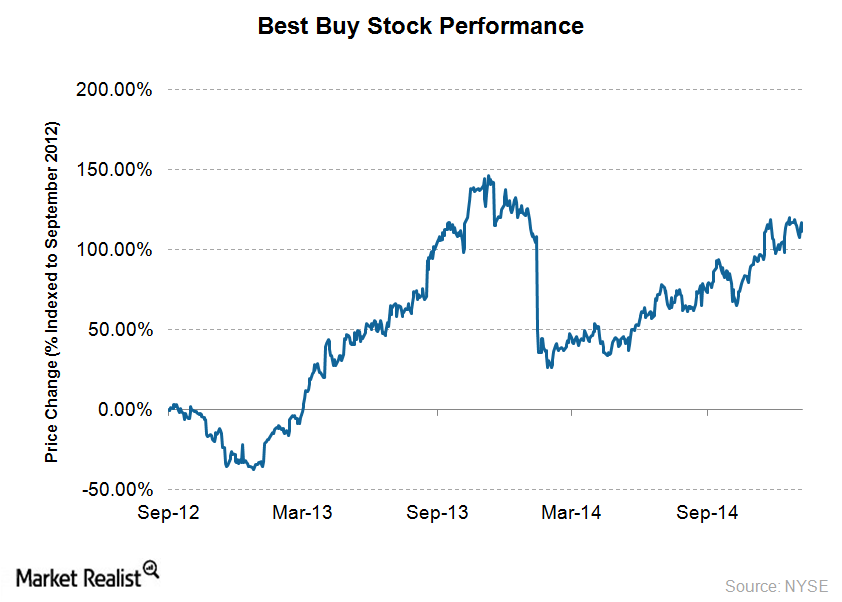 Best Buy CEO transforms the company for the better
Strong leadership
Best Buy (BBY) CEO, Hubert Joly, has played a crucial role in the company's turnaround. Joly assumed the role of CEO in September 2012, when Best Buy was immersed in problems ranging from rapidly declining sales, intense competition from online retailers such as Amazon.com (AMZN), and the scandalous departure of former CEO Brian Dunn on allegations of inappropriate conduct. Also, there was a buyout attempt by the founding chairman.
Article continues below advertisement
Impressive background
Before being appointed Best Buy CEO, Hubert Joly was credited with turning around two other companies—Carlson Wagonlit Travel and then its parent company, Carlson Company, a restaurant and hotel operation. Joly was Carlson's first non-family CEO and was instrumental in improving the financial position of the company. Joly repositioned Carlson's core brands and expanded the company's business in emerging markets.
Best Buy's stock has appreciated by 111% since Joly took over the reins of the company.
The S&P 500 SPDR ETF (SPY), the Consumer Discretionary Select Sector SPDR Fund (XLY), and the iShares Core S&P 500 ETF (IVV) are certain ETFs with holdings in Best Buy and some of its rivals.
Reviving Best Buy
Joly took over the reins of Best Buy from the company's interim CEO, Mike Mikan. The company's former CEO, Brian Dunn, resigned in April 2012 following allegations of an inappropriate relationship with an employee. Joly's main priorities were to provide stability to the firm and address the declining same-store sales stemming from competition from online retailers.
In the next part of this series, we'll look at how Joly transformed the company with a turnaround strategy he called "renew blue."
Online retailers, primarily Amazon, have been eating away the market share of retailers like Best Buy, Wal-Mart Stores (WMT), Target (TGT), RadioShack (RSH), and J.C. Penney (JCP) across several product categories.