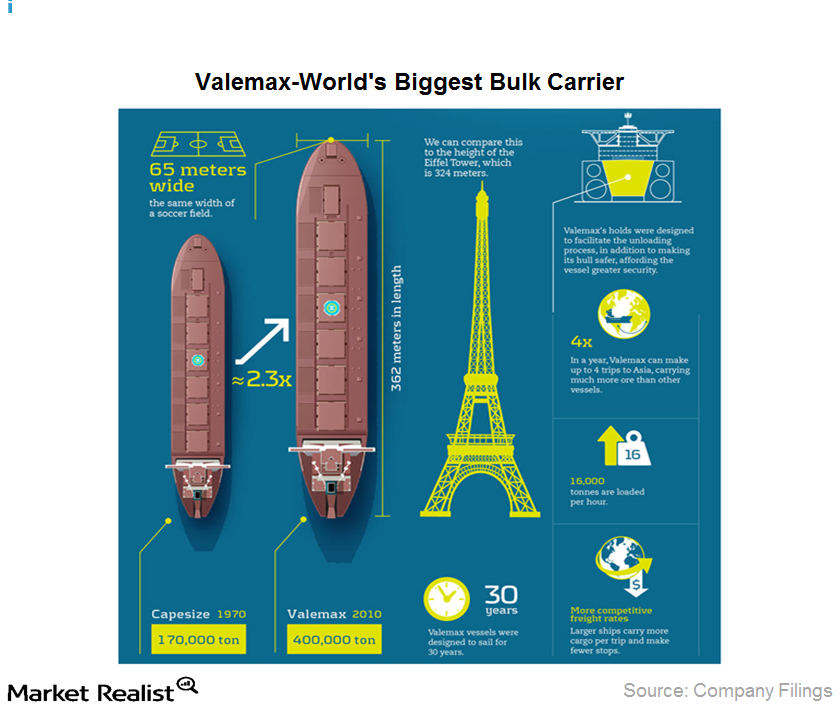 Valemax ships sail Vale SA to cost-effective distribution
<p>Valemax ships are ultra-large vessels, capable of carrying 400,000 dwt (dead weight tons) each. That&#8217;s 2.3 times more than traditional Capesize ships. They also emit 35% less CO2 per ton of ore transported. </p>
Valemax ships
As we've noted earlier in this series, due to its geographical disadvantage, Vale SA (VALE) has invested a lot in infrastructure and logistics. For example, it uses the world's biggest ore carrier—the Valemax.
Valemax ships are ultra-large vessels, capable of carrying 400,000 dwt (dead weight tons) each. That's 2.3 times more than traditional Capesize ships. They also emit 35% less CO2 per ton of ore transported. Valemax ships were built especially to serve Vale's markets in Asia, mainly China, which accounted for ~50% of Vale's iron ore shipments in 2013. The ships have lowered the shipping costs between Brazil and China to $22 per ton.
Article continues below advertisement
Article continues below advertisement
Docking issues
For some time, the Valemax ships weren't allowed to dock at Chinese ports, which only allow ships of up to 250,000 dwt. Chinese shipping companies also lobbied against the ships, fearing that allowing such large vessels to dock would increase the overcapacity in the shipping industry. Overcapacity in shipping has already led to lower freight rates.
Agreement with Cosco
In September 2014, Vale signed an agreement with China Ocean Shipping Company, or Cosco, for strategic cooperation in iron ore shipping. Under this agreement, Vale agreed to sell and lease back four of its Valemax ships. It also committed to leasing ten more vessels. This was a big deal for Vale. In return for its commitments, it's now allowed to dock its Valemax ships in China. An additional $7 per ton could be saved as a result. This would effectively, or at least to a large extent, mitigate its geographical disadvantage.
Vale SA's Australian competitors are close enough to Asia already. These companies include BHP Billiton Ltd. (BHP), Rio Tinto plc (RIO), and Fortescue Metals Group Ltd. (FSUGY), as well as the Asia-Pacific segment of Cliffs Natural Resources Inc. (CLF).
The SPDR S&P Metals and Mining ETF (XME) invests in the above-mentioned stocks, providing diversified exposure to this sector.