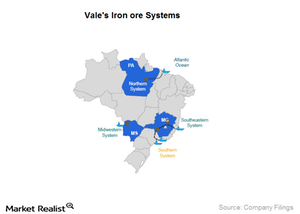 Vale SA: Top-quality iron ore and pellets
Iron ore and iron ore pellets
Vale SA (VALE) is the world's largest producer of iron ore and pellets. Pellets are manufactured by gathering together the powder generated during the ore extraction process. In 2013, the company had an estimated market share of 21.9% of the total seaborne iron ore market.
The company conducts its iron ore business in Brazil, primarily at the parent-company level through its wholly owned subsidiary, MCR (Mineracao Corumbaense Reunida S.A.). Vale produces pellets directly and through joint ventures in Brazil, Oman, and China. Its total estimated capacity is 57.2 million tons per year.
Article continues below advertisement
Article continues below advertisement
Four systems
Vale operates four systems in Brazil to produce and distribute iron ore:
Northern
Southeastern
Southern
Midwestern
The Northern and the Southeastern systems are fully integrated, consisting of mines, railroads, a maritime terminal, and a port. The Southern system consists of three mining sites and two maritime terminals. The four systems combined have 22 iron ore mines and 11 pelletizing plants. Total iron ore production was 300 million tons in 2013.
Operations
All of its mines are open-pit, and their related operations are mainly concentrated in three systems—the Southeastern, Southern, and Northern systems—each with its own transportations capabilities. Vale SA operates in the Midwestern system through Samarco Mineracao S.A., a joint venture with BHP Billiton Ltd. (BHP) in which the company has a 50% equity stake.
Carajas is Vale's biggest operation, located in the Amazon region in northern Brazil. Its iron ore is considered to be of the highest quality in the world, containing about 67% pure iron ore, or Fe. In comparison, BHP Billiton Ltd.'s (BHP) and Rio Tinto plc's (RIO) flagship Pilbara operations produce iron ore with ~ 62%–63% Fe content. And Fortescue Metals Group Ltd's (FSUGY) iron ore is only ~55% Fe.
The SPDR Metals and Mining ETF (XME) invests in the metals and mining sector.