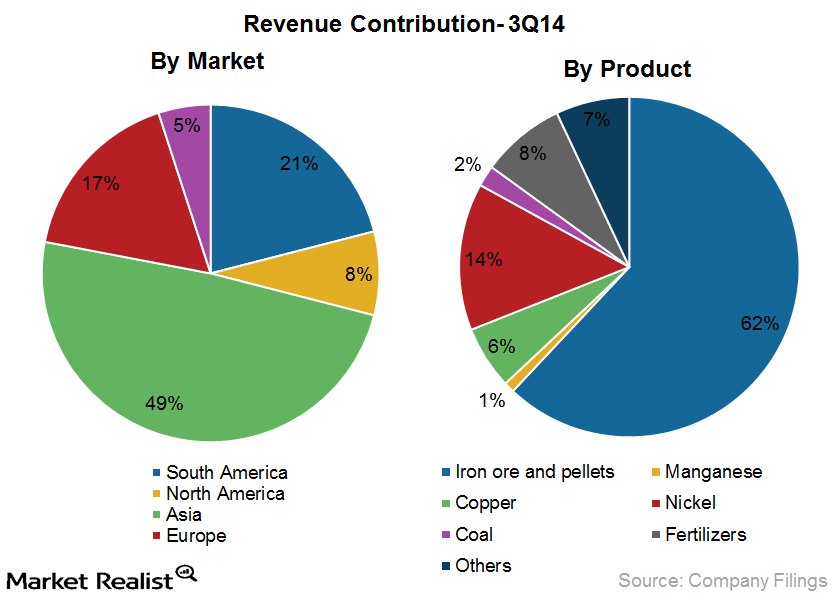 Vale SA: Overview of the world's largest iron ore company
Operations
Vale SA (VALE) is a Brazilian multinational diversified metals and mining company. It is the world's largest producer of iron ore and iron ore pellets and the world's second-largest producer of nickel. It also produces manganese ore, ferroalloys, coal, copper, PGMs (platinum group metals), gold, silver, cobalt, potash, phosphates, and other fertilizer nutrients.
Vale has mineral exploration operations in 11 countries around the globe. It operates infrastructure systems in Brazil and other regions of the world, including railroads, maritime terminals, and ports that are integrated with its mining operations.
Its main operations are divided into four main lines of business:
Bulk materials – iron ore and pellets, manganese, ferroalloys, and coal
Base metals – nickel, cobalt, copper, PGMs and other precious metals
Fertilizer nutrients – potash, phosphate, and nitrogen fertilizers
Logistics infrastructure – railroads, maritime terminals, distribution centers, and ports
We'll discuss these in detail in subsequent parts of this series.
Article continues below advertisement
Article continues below advertisement
Brief history
Vale SA (VALE) was incorporated by the Brazilian government in 1942. Originally, the government was responsible for a majority of the country's iron ore production and exports. During the 1980s, the company diversified into aluminium, wood pulp, and steel products.
In 1997, Vale was privatized. A 41.73% stake in the company was sold for $3.14 billion. Between 2000 and 2007, the company sold many of its non-core assets, particularly those related to steel and wood pulp, while acquiring more iron ore assets.
The bulk of Vale's earnings come from iron ore. Its peers in seaborne iron ore trade include Rio Tinto plc (RIO), BHP Billiton Ltd. (BHP), Fortescue Metals Group Ltd. (FSUGY), and Cliffs Natural Resources Inc.'s (CLF) Australian division. Together with Vale, these companies constitute more than 70% of the seaborne iron ore supply.
Investors can also consider investing in exchange-traded funds that invest in the metals and mining sector such as the SPDR S&P Metals & Mining ETF (XME).