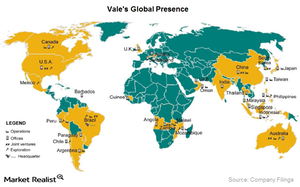 Where Vale SA operates and why
<p>Currently, the the private sector is leading significant expansion and major rehabilitation of Mozambique's infrastructure. Vale itself is investing in the development of the Nacala infrastructure project. </p>
Global operations
Vale SA (VALE) operates in 30 countries across the world in different lines of business.
Article continues below advertisement
Article continues below advertisement
Iron ore
All of its iron ore assets are located in Brazil, which is rich in high-grade iron ore. Development of rails and ports have further facilitated the transportation of ore to far-off markets in Asia and Europe.
Coal
Vale has coal operations in Mozambique and in New South Wales and Queensland in Australia. All off these are mineral-rich areas.
The infrastructure in Mozambique is not well developed for supporting mining activities. Infrastructure bottlenecks here are slowing down the development of mining. Currently, the the private sector is leading significant expansion and major rehabilitation of the country's infrastructure. Vale itself is investing in the development of the Nacala infrastructure project.
Article continues below advertisement
Nickel
Vale has nickel operations in Brazil, Canada, Indonesia, and New Caledonia, as well as fully owned and joint venture refineries in China, South Korea, Japan, the United Kingdom, and Taiwan. The infrastructure and political environment is generally good in these areas.
Copper
Vale's copper assets are located in Canada and Carajas, in the state of Para in Brazil. The infrastructure is quite well developed by Vale itself in the Carajas region as its high-grade iron ore operations are in this area. In the Canadian regions of Ontario and Newfoundland and Labrador, Vale's operations are also well connected by roads and ports.
The company's rivals (XME) including BHP Billiton Ltd. (BHP), Rio Tinto plc (RIO) and Fortescue Metals Group Ltd. (FSUGY) mainly operate in Australia. The exception, Cliffs Natural Resources Inc. (CLF), mainly operates in North America.