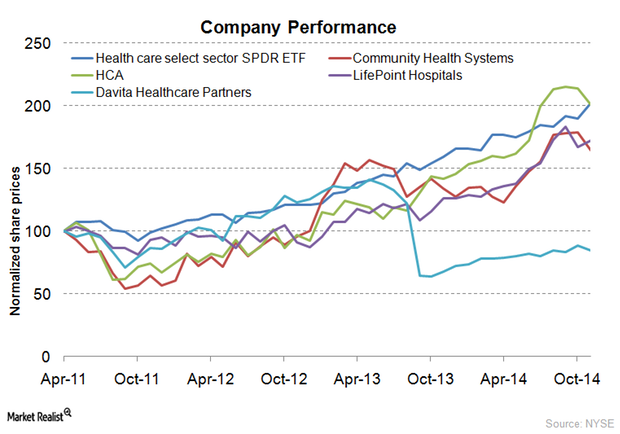 An overview of HCA Holdings
Overview
Headquartered in Nashville, Tennessee, HCA Holdings (HCA) is the largest for-profit hospital operator in the world. The company has a network of 165 hospitals and 115 freestanding surgery centers in 20 states in the US and England. The company also has the highest market capitalization, amounting to $29.7 billion in the US hospital industry.
Article continues below advertisement
Article continues below advertisement
History
The story of HCA Holdings is one of frequent change in structure and ownership. Founded in 1968, the company launched its first initial public offering (or IPO) in 1969. Throughout the 1970s and the 1980s, the company was involved in several acquisitions and divestitures, such as the acquisition of General Care Corporation and General Health Services. It also managed the divestiture of HealthTrust. HCA Holdings went private in 1988 through a leveraged buyout, but it again became a public company in 1992.
Strategic acquisitions and divestitures again resumed, this time with major mergers like those with Columbia, Medical Care America, and spin-offs of LifePoint and Triad Hospital groups. On November 17, 2006, HCA became a private company for the third time. Then, it completed a merger in which the company was acquired by a private investor group including affiliates of Bain Capital, Kohlberg Kravis Roberts & Co., Merrill Lynch Global Private Equity, and HCA founder Dr. Thomas F. Frist, Jr.
HCA Holdings again became a public company when shares began trading on the New York Stock Exchange in March 2011. Since then, the company has continued to provide good returns to its investors.
Share price performance
The graph shows that HCA Holdings has consistently provided good returns with the performance, surpassing even that of Health Care Select Sector SPDR ETF (XLV) in the latter half of 2014.
On an annualized basis, the company delivered returns of 21% from April 2011 to November 2014. In the same time frame, peers like Community Health Systems (CYH), Davita Healthcare Partners (DAV), and LifePoint Hospitals (LPNT) each delivered an annual return of 15%, -4.4%, and 16%, respectively.