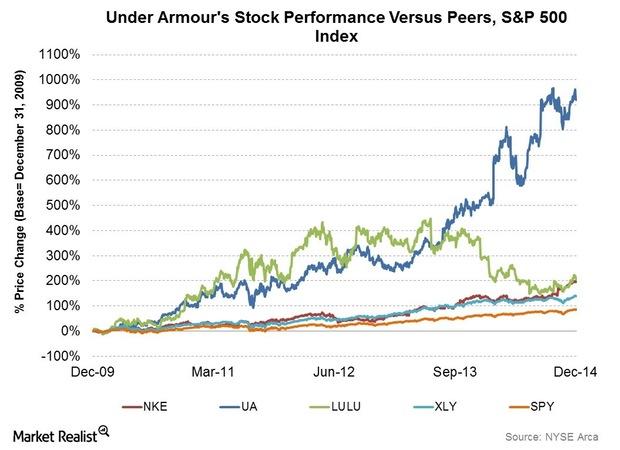 Understanding The Under Armour Growth Story
The history and the idea
Under Armour, Inc. (UA) owes its beginnings to an idea formed on a football field in 1996. Founder Kevin Plank, former special teams captain at the University of Maryland, came up with a concept to keep athletes light, dry, and cool in hot conditions. He developed a new synthetic fabric he called HeatGear. Apparel made from the fibre would be tight-fitting and moisture-wicking, and would support athletes' muscles and regulate their body temperature.
Article continues below advertisement
Article continues below advertisement
The growth story
In the 18 years since its inception, Baltimore-based Under Armour (UA) has become a major player in the sportswear market, taking on the likes of global giants NIKE, Inc. (NKE) and Adidas AG (ADDYY). When the company first went public in November 2006, Under Armour became the first US-based initial public offering in five years to double its price on its first day of trading.
Under Armour stock price appreciation has surpassed peers and the broader market. Its stock price growth has been phenomenal, increasing by over 10x in the last five years. This dwarfs the ~200% increase seen by market leader NIKE, and the ~86% seen in the broader market as represented by the S&P 500 Index (SPY).
Admittedly, its initial base was small, helping the company's growth rates show well when compared to NIKE. And NIKE has a market cap more that 5x that of Under Armour.
But both Under Armour and NIKE have compelling growth stories, past and future. The companies are part of ETFs that have a growth slant, such as the Guggenheim S&P 500 Pure Growth ETF (RPG) and the iShares S&P 500 Growth ETF (IVW). As a part of the S&P 500 Index, the two companies are also included in the holdings of the SPDR S&P 500 ETF (SPY).
In this series, you'll read about the key factors driving the company's growth model and outlook. Read about the company's innovative products in the next part.