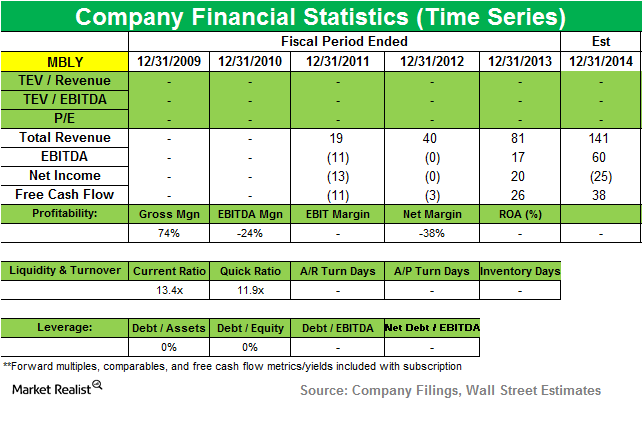 Tiger Global starts new position in Mobileye
Tiger Global adds stake in Mobileye
Tiger Global initiated a new position in Mobileye NV (MBLY) that accounted for 0.71% of the fund's third quarter portfolio.
Article continues below advertisement
Mobileye overview
Mobileye is a global leader in the design and development of software and related technologies for camera-based advanced driver assistance systems (or ADAS). The company's technology keeps passengers safer on the roads, reduces the risks of traffic accidents, saves lives, and has the potential to revolutionize the driving experience by enabling autonomous driving.
The company's proprietary software algorithms and EyeQ​ chips perform detailed interpretations of the visual field in order to anticipate possible collisions with other vehicles, pedestrians, cyclists, animals, debris, and other obstacles.
Mobileye saw its trading debut in August
The Israel-based vehicle safety technology company launched its IPO in August. The aggregate gross proceeds of the offering were $1.023 billion. The company expects to use the estimated $193.7 million of net proceeds for general corporate purposes and to purchase EyeQ chip inventory. Shares rallied on the first day of trading and the company and existing shareholders sold 35.6 million shares for $25 each. This was over the high end of the $21 to $23 marketed range.

Article continues below advertisement
Mobileye said in its prospectus that its technology will be available in 160 car models from 18 original equipment manufacturers (or OEMs) worldwide by the end of 2014. Further, the company's products have been selected for implementation in serial production of 237 car models from 20 OEMs by 2016. Its customers include General Motors, Ford and Chrysler, Honda, Nissan, Mitsubishi and Hyundai, Audi, BMW, Volvo, PSA, and Jaguar Land Rover.
Mobileye posts 100% revenue growth annually
Mobileye's IPO prospectus said the company experienced overall revenue growth of more than 100% in both 2013 and 2012, and 203.7% revenue growth in the three months ended March 31, 2014, compared to the corresponding period in 2013.
The company operates two segments: sales to OEMs, all of which are through Tier 1 companies and sales of aftermarket products. For 2013, total revenue increased 101.7% to $81.2 million, from $40.3 million for 2012.
Article continues below advertisement
Revenue up on demand for ADAS solution
For 3Q14, total revenue was $34.7 million, an increase of 70% compared to $20.4 million in the prior-year period. OEM revenue was $28.8 million, an increase of 60% compared to $18 million in the prior-year period. Aftermarket revenue contributed the remaining $5.9 million of total revenue, an increase of 146% year-over-year. The management commented that it "remains in a position to benefit from the ongoing move toward increased regulation of ADAS as well as from the large and growing trend towards semi-autonomous and autonomous driving."
Mobileye posted a net loss of $13 million, compared with a net income of $5 million a year earlier. Non-GAAP (generally accepted accounting principles) net income for the third quarter of 2014 was $9.7 million or $0.04 per share, up from $7.9 million, or $0.04 per share.
The management noted on the earnings call that "full year non-GAAP net income, which excludes share-based compensation, is expected to be in the range of $44.5 million to $45.2 million, approximately $0.20 per share."
Top holdings Tiger Global traded in the third quarter
The fund added new positions in Bitauto Holdings (BITA), Tableau Software (DATA), Mobileye NV (MBLY), and GoPro (GPRO). The fund sold positions in Dollar General (DG), Fidelity National Information Services (FIS), Comcast (CMCSA), and Qihoo 360 Technology (QIHU). Top position increases include Hertz Global Holdings (HTZ), MasterCard (MA), and Autohome (ATHM).
The next part of the series will highlight the fund's new position in GoPro Inc.