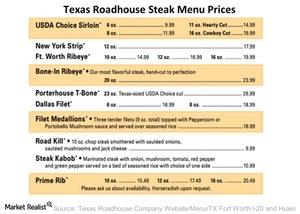 Why Texas Roadhouse Increased Its Menu Prices
What is average check?
In the last part of this series, we learned that a menu price increase helped increase the average check per customer at Texas Roadhouse (TXRH). So what is average check, and how much is it for TXRH? Average check is the average customer-paid transaction. The average check for TXRH in 2013 was $15.8 at company-operated restaurants.
TXRH considers "each sale of an entrée" as a customer who was served. The above chart shows the recent menu prices of the steak selection at TXRH. From the chart, you can see that the price of items ranges from $9.99 to $26.99.
Article continues below advertisement
Higher average checks at peers
The average check per person at Outback, which is under the umbrella of Bloomin' Brands (BLMN), was $20 in 2013. The average check at LongHorn Steakhouse, under the umbrella of Darden Restaurants (DRI), was about $19.00 to $19.50. At The Cheesecake Factory (CAKE), the average check was $19.70. So it appears that the TXRH menu has room to grow.
You may consider the Consumer Discretionary Select Sector SPDR Fund (XLY) to invest in some of the restaurants we've mentioned above.
Why THRX increased its menu prices
But THRX has been increasing its prices year-over-year. The company increased its menu prices by 1.5% in early December of 2013, and in 2012, it increased menu prices by 2.2%. In 2011, the company increased its menu prices by 2.5% to 3.0%. These increases were due to an increase in pressure from inflation for input commodities. This brings us to the commodity price increase, which we'll discuss in the next part of this series.