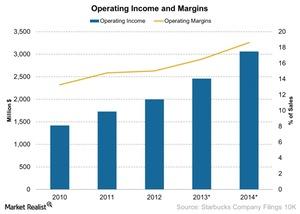 Starbucks' Operating Profit Margin Increases
Operating income
In the last few parts of this series, we saw Starbucks' (SBUX) operating costs. Its operating costs declined as a percentage of sales. This was due to sales leverage. So, has SBUX been more profitable over the years?
When we analyze profitability, we need to look at the company's trend in operating income. Operating income is the remaining profit after operating costs. It's the profit before interest and taxes.
Article continues below advertisement
Article continues below advertisement
At the end of fiscal year 2014, SBUX's operating income was $3.1 billion. It grew 24% year-over-year, or YoY, from $2.4 billion in 2013. Its operating profit margins also increased to 19% in 2014—compared to 17% in 2013. The margins improved due to sales leverage. We discussed sales leverage earlier in this series.
Dunkin' Brands (DNKN) had an operating margin of 44%. Tim Hortons (THI) had an operating margin of 19%. Quick-service restaurants—like McDonald's (MCD)—had an operating profit margin of 30%.
Some of the restaurants mentioned above are also included in the SPDR S&P 500 ETF (SPY).
Litigation charges
The above chart shows the normalized net income for SBUX over a five-year period. For 2013, the company incurred $2.7 billion towards litigation charges. In 2014, the company received a credit of $20.2 million related to the same litigation charge.
The litigation charges were a result of a settlement with Kraft Foods. SBUX terminated Kraft Foods as its distributor. It distributed SBUX's coffee products to grocery stores.
In the next part of this series, we'll look at SBUX's net profit and margins. We'll also look at the impact of SBUX's tax and interest expense.