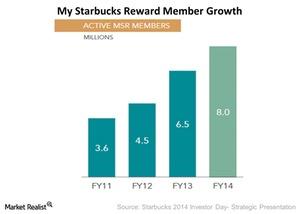 Starbucks Gets Help From Its Rewards Program
Digital strategy
In the last part of this series, we saw seven strategies listed by Starbucks' (SBUX) management to grow same-store sales. We'll discuss some of these strategies in more detail below. We'll also discuss more of the strategies in the next few parts of this series.
In the above chart, you can see that the My Starbucks Rewards program had 8 million customers at the end of fiscal year 2014. According to the company, program members spend three times more than customers who aren't in the rewards program. It's important to note that these are active members.
Article continues below advertisement
Article continues below advertisement
The My Starbucks Rewards ecosystem
One of the ways a customer can become a My Starbucks Rewards member is by using the My Starbucks Rewards card. The card is available at the checkout counter. The customer registers the card online. The card can be refilled with a balance. So, the card works like a prepaid card. The customer uses the card to purchase items at SBUX.
The customer is rewarded with a star for purchasing specific items at the store. The customer can redeem the collected stars at Starbucks, Teavana, La Boulange, and Evolution Fresh locations. A customer can also synchronize the card to a smartphone app. We'll discuss this in more detail in the next part of this series.
Not the first rewards program
SBUX isn't the first company to have a rewards program. Dunkin' Brands (DNKN) also has a loyalty program. It's called the DD Perks rewards program. It had 1.8 million members as of 3Q14. Recently, Tim Hortons (THI) was acquired by Burger King (BKW). THI launched its loyalty program in 2014.
You may consider a broader ETF, like the SPDR S&P 500 ETF (SPY), to invest in several restaurant stocks at once.