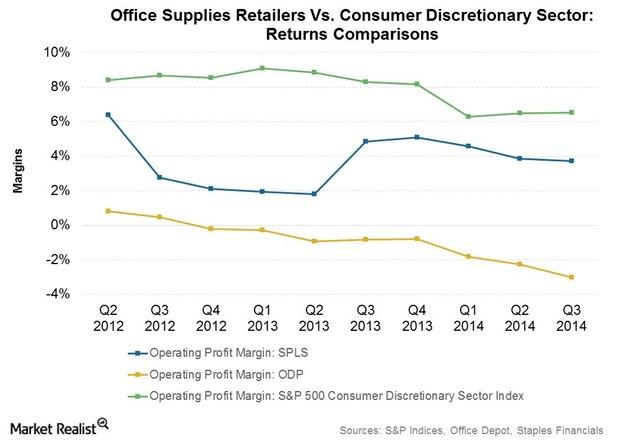 Staples And Office Depot—Market Leaders In A Changing Industry
Starboard stake and office supplies retailers
Staples (SPLS) and Office Depot (ODP) are facing a challenging business environment. Their core product category is office supplies. Revenues are declining for office supplies. The office supplies retail segment underperformed the overall consumer discretionary (XLY) sector. Starboard Value's interest in SPLS and ODP created interest in the markets. It showed that this retail segment could be revived.
Article continues below advertisement
Headwinds for office supplies retailers
SPLS's total sales declined 5.2% in fiscal year 2014 to $23.1 billion—for the year ending on February 1, 2014. Sales declined in both major markets—North America and Europe. Core office supplies' share in overall revenues is declining. For SPLS, it fell from 29.4% in fiscal year 2012 to 27.5% in fiscal year 2014.
SPLS stopped providing annual sales and earnings per share, or EPS, guidance as a result of the challenging business environment. It only provides quarterly guidance.
In 2013, ODP's sales declined by 3.7% to $10.3 billion. This was excluding OfficeMax's (OMX) sales of $939 million—calculated from the time of integration. ODP's sales decreased 15.2% since 2009.
Internal and external industry drivers
The decline in sales is partly due to increased competition. A number of big-box retailers (XRT), wholesale stores, and websites started offering these products.
Major competitors for SPLS and ODP include Walmart (WMT), Tesco (TESO), Target (TGT), Costco (COST), Best Buy (BBY), Apple (APPL), Amazon (AMZN), FedEx Office (FDX), and Lyreco. Due to differences in the business models, some of these firms are able to undercut pricing—compared to niche retailers like SPLS and ODP.
"Our customers are using less office supplies, they're shopping less often in our stores and more online and the focus on value has made the marketplace even more competitive," said Staples CEO, Ron Sargent, at the 2013 earnings conference call.
The environmental trend is to avoid using paper whenever possible. This also meant lower demand for paper and complementary products among corporates. The sales model also shifted towards lower-margin tablets. It shifted from laptops and PCs.
New growth avenues
To stem the decline in sales, both companies are looking at new growth avenues and cost control. This will help them survive. They will be able to provide shareholders with positive returns. New business initiatives include business services, print and advertising, and e-commerce. Measures to control costs include store rationalization, driving efficiencies in the supply chain, and reducing SG&A (selling, general and administrative expenses)—among others.