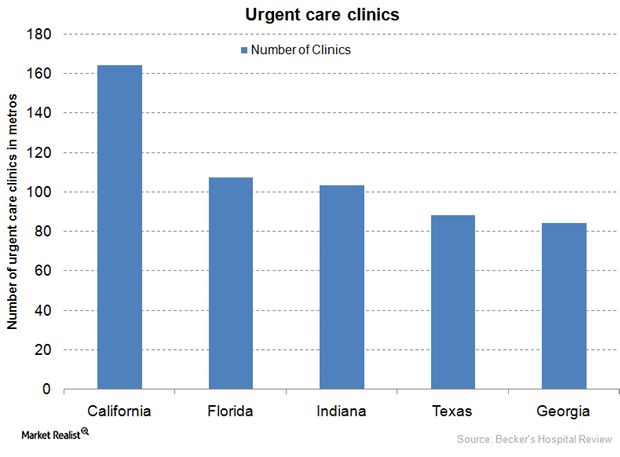 Standalone urgent care strategies
Urgent care centers
Urgent care centers and emergency care have both become an integral part of the US healthcare industry, represented by the Health Care Select Sector SPDR ETF (XLV). The difference in these two types of services lies in the severity of the patient's ailment.
In cases of life-threatening or limb-threatening medical condition,severe wounds, or amputations, patients visit emergency rooms. Urgent care is accessed to treat other non–life-threatening ailments as a less costly and faster alternative to emergency care.
Article continues below advertisement
Article continues below advertisement
Acquiring urgent care clinics
The graph above shows five states with the largest number of urgent care clinics in the US. HCA Holdings is capturing market share in the $15 billion urgent care clinic market field by focusing on acquiring or opening standalone urgent care clinics.
On October 28, 2014, the company announced the acquisition of CareNow, a privately held operator of 24 urgent care centers in Dallas-Fort Worth, Texas. With this acquisition, HCA will control about 60 urgent care centers in the country. In April 2013, a joint venture between HCA Holdings' Tristar Health subsidiary and Florida-based care center operator CareSpot acquired NeighborMD, which has five urgent care centers in Nashville.
HCA Holdings is competing with urgent care operators such as Concentra, US Healthworks, and MedExpress in states such as Texas and Florida. Future acquisitions or joint ventures can take place in California and Georgia, which are some of HCA's major markets that also have a large number of urgent care clinics
Peers