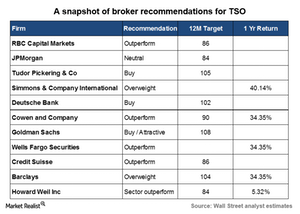 A snapshot of Wall Street's recommendations for Tesoro
By Manas Chowgule, CFA

Nov. 20 2020, Updated 4:20 p.m. ET
What is Wall Street saying?
In this series, we've seen why Tesoro Corporation (TSO) has been doing so well lately on the stock market. Now let's look at what Wall Street brokers have to say about the company.
Article continues below advertisement
Most rate Tesoro a "buy"
It should come as no surprise that ~65% of analysts tracking Tesoro Corporation (TSO) rate it a "buy" or some equivalent. The remaining 35% rate the company a "hold" or an equivalent.
None of the analysts compiled here rate the stock a "sell," even in the midst of one of the most severe crude oil price slumps in history.
Analysts' recommendations
When it comes to individual recommendations, Goldman Sachs (GS) gives Tesoro Corporation (TSO) the highest target price. The investment bank has a target of $108 for the company. Tesoro currently trades near $75, implying a ~45% return in the next 12 months.
Energy investment bank Tudor, Pickering, Holt, & Co. and Barclays Plc (BCS) have a 12-month target of $105 and $104, respectively, for Tesoro. These targets imply a ~40% return from Tesoro over the next 12 months.
JPMorgan Chase (JPM), another Wall Street investment bank, gives Tesoro the most pessimistic target of $84. Energy investment boutique Howard Weil implied a decent 12% return in 12 months.
Evidently, Wall Street has high expectations for Tesoro Corporation (TSO).
Refining companies and integrated energy companies such as Exxon Mobil (XOM) and Chevron Corporation (CVX) have been holding their own in the midst of the recent energy rout. To gain exposure to these premier American titans and the American energy sector in general, investors may consider the Energy Select Sector Standard & Poors depositary receipt (or SPDR) exchange-traded fund (or ETF) (XLE).
In a future series, we'll do a deeper analysis of Tesoro Corporation's historical financials to check the foundation of this company's performance. In the meantime, check out our Energy and Power page for similar analyses on energy prices and companies.